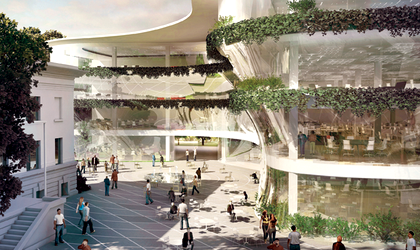 Real estate developer and investor NEPI Rockcastle has finalized the Aviatorilor 8 office project some two years after works began on site. The 7,700 sqm (GLA) office project required an investment of some EUR 37 million, according to news.ro.
It is located in downtown Bucharest, in Victoriei Square near the Victoria Palace, the government's headquarters. Aviatorilor 8 consists of 7,700 sqm of newly built office space and the refurbished Oromolu mansion. The historic property was built by a former Romanian central bank governor, Mihai Oromolu, in 1927 on a 4,500 sqm plot of land located.
The mansion, which was damaged by a fire in 2009, and the plot of land were evaluated at some EUR 13 million in 2013. NEPI got the property from real estate group Avrig 35 as part of a debt but the transaction's value had not been made public.
NEPI is the largest local real estate investor based on assets. It owns shopping malls such as Mega Mall, Promenada, Vulcan Value Center, Ploiesti Shopping City, Shopping City Timisoara and City Park Constanta. It also owns several office buildings including Floreasca Business Park and The LakeView in Bucharest and The Office in Cluj-Napoca.
Simona Bazavan
"Get an insightful outlook for the Real Estate market in 2017 in Business Review's latest industry guide!"