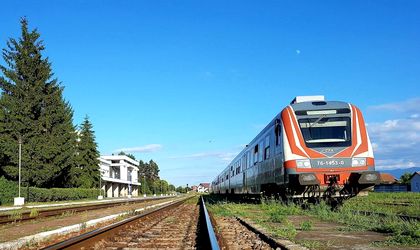 Representatives of the national rail operator CFR presented detailed plans for the Northern Railway Station – Otopeni Airport railway link in a press conference on Monday.
The upgrade of the train line will cost RON 584 million, and the 2.95 km link from the existing railway to the Arrivals Terminal of the airport will be built on 42 pillars.
The new link should be ready by the time the European Football Championship EURO 2020 begins to facilitate the transport to central Bucharest for fans arriving at the Henri Coanda Airport.
The plan has the works being completed in 14 months after the planning phase, which is scheduled for April of this year.
"The viaduct solutions ensures we can maintain access to built areas and cross existing ANIF canals, which have a role to play in case of floods. This solution has a limited impact on the environment and allows a higher flexibility for future urban development in the area. The structure also provides service footpaths as well as noise-absorbing panels.
CFR is also planning another investment to double the railway between the Mogosoaia and Balotesti stations to ensure a higher circulation capacity.
Works will be carried out using state budget funds and will take 18.5 months. The line is 7.9 km long and the estimated investment value is RON 82.6 million.
CFR also compiled a list of owners of real estate that's in the way of the railway plans, who will be compensated. There are 64 land plots totalling 75,644 sqm, two buildings, and 11 other constructions. The total value of compensations for private properties in the area is RON 6.9 million.