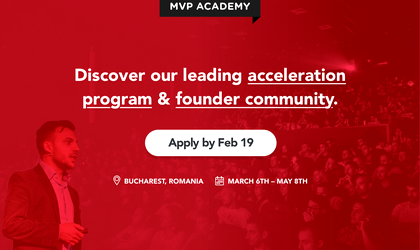 The MVP Academy announced that its alumni attracted total investments of EUR 1.7 mln on the opening of its 4th edition of the accelerator dedicated to tech businesses.
Seven of the startups taking part in MVP Academy 2016 have received financing of over EUR 760,000, including Reflex, Urby and TypingDNA, bringing the total financing of all the MVP Academy alumni to over EUR 1.7 million. Currently, 8 of the products developed by the 2016 alumni are available on the market, with the rest still under development in various stages.
The products cover industries such as artificial intelligence, security, energy, eHealth, agritech, mobility, most of them having a B2B/B2C business model; also, a third are hardware products. Startup founders that want to benefit from mentorship with tech experts, connections with the global industry and investment opportunities can submit their applications online. Participation is free of charge, and startups can apply on the program's website www.mvpacademy.co until Sunday, 19 February 2017.
The 4th edition of the MVP Academy accelerator will take place this year between 6 March and 8 May, at TechHub Bucharest – the largest coworking space dedicated to tech professionals in Romania. The program takes place for 9 weeks and is dedicated to tech entrepreneurs that are building businesses with a global potential. In the first three editions, MVP Academy has accelerated the growth of 45 businesses.
Reflex received an investment and will start clinical trials of the product in February 2017. Silometer registered a revenue of over EUR 106,000 in 2016 and is currently under review to be accepted in the Pearse Lyons Accelerator (Dublin). Scooterson got accepted in HAX Boost acceleration program (San Francisco) and has pre-orders of over EUR 380,000. TypingDNA received an investment from GECAD Ventures and several other local angel investors. A first version of their product, in the form of an API, is available.
More details about the results of the MVP Academy alumni are available in the follow-up report published online on www.mvpademy.co.