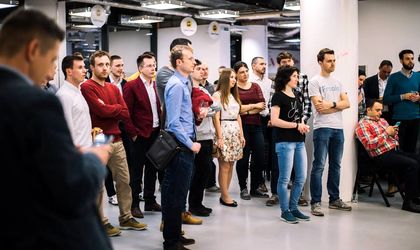 The MVP Academy acceleration program ends up on Monday, May 8, with a Demo Day, the final event of the program. 10 startups will take the stage at Cinema Pro to present their products and the progress they have achieved during the past nine weeks of acceleration. Tech professionals that want to network with founders, investors and community leaders can book a free community ticket by registering online on the event website.
MVP Academy accelerator took place at TechHub Bucharest between March 6 – May 8 and accelerated the business development of 10 startups that are building tech products for global markets.
During the 9 weeks of acceleration, the batch of 2017 worked close with experienced professionals, active investors and tech founders with similar companies to define their product development strategies and create a business development plan to help them boost their results after graduation.
MVP Academy ends on Monday May 8, 5:30 pm with its Demo Day, the final event of the program organised with the involvement of The US Embassy in Romania which will bring together over 500 tech professionals from the local ecosystem and the region as well. Investors, successful entrepreneurs, journalists, C-level execs and community leaders will join the event to feel the vibe of the local ecosystem and meet the startups.
At this year's MVP Academy Demo Day, the event will bring into discussion the importance of entrepreneurial education to foster the development of the local ecosystem, what can we do to prepare better the next generations of Romanian entrepreneurs and what type of initiatives we should develop in this respect. Stacey Ferreira (CEO and cofounder Forge) and Robert Knapp (CEO CyberGhost) will take the stage to share their visions on this topic. Stacey co-founded her first company, an online solution for password storage and management, called MySocialCloud, when she graduated from high school. Through Twitter, she attracted investors like Richard Branson, Jerry Murdock and Alex Welch. She raised USD 1.2 million for her business when she was just 18 years old. Ferreira is currently the CEO of Forge, an enterprise workforce management application that empowers hourly employees to work on-demand while providing retailers the tools needed to source, hire, manage and retain their workforce.
"For this year's MVP Academy we worked with 10 startups that are very mature from a product point of view. We focused on business development quite a lot. It was important to help the founders identify which are the best steps for them to take their businesses to the next level are. The batch of 2017 needed specific support on their marketing and sales campaigns as most of them had a specific goal: to boost the sales and increase the number of paying clients. If we were to compare with teams participating in the program in the previous years, this time we had teams with different growth objectives, but the intensity of the workload was the same. We are looking forward to seeing the teams pitching on stage at their Demo Day, in front of the entire tech community," said Bogdan Iordache, managing director at MVP Academy, who has run the program together with Mircea Vadan (program manager) and Tudor Stanciu (Startups community manager).
The startups that accelerated their growth through MVP Academy got access to an international network of mentors and tech startups and participated to tens of hours of mentoring. From 1 on 1 sessions on business and product development to dedicated workshops tailored to their needs and pitch practice sessions to help them pitch their products in front of investors, potential partners or clients. The most promising MVP Academy 2017 teams may receive an investment through MVP Angels, the angel investors network associated with the acceleration program, in exchange for a minority stake in the company.
Tech professionals that want to network with founders, investors and community leaders and be a part of MVP Academy Demo Day 2017 can book a free community ticket by registering online on the event website.
MVP Academy is organised in partnership with CyberGhost VPN, with the support of Bitdefender, Microsoft Romania, Raiffeisen Bank, Pfizer and operational aid from F6S. The program's media activity is ensured by Start-up.ro, Startup Cafe, EuropaFM, Business Review, Softlead, IQAds, eFinance, Agora, The Trends, with the support of Zelist Monitor and tech professionals communities.