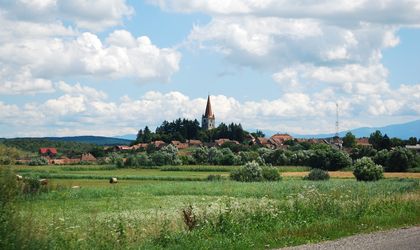 The first phase of the multinational drill Saber Guardian – 16 has started on Thursday in the Cincu Shooting Range, Brasov county, with the building of a bridge over the Olt River.
The tactical exercise, which lasted 20 minutes, involved all categories of ground, air and naval forces. It consisted of setting up a bridgehead for the crossing of ground forces over the River Olt.
According to organizers, cooperation between the Romanian and US troops was very good, with good results.
The drill is divided in two phases and a duration of over one hour. The second part of the multinational drill, to be held 14 km away from the first exercise, was scheduled at noon in the presence of President Klaus Iohannis and of other guests of the two sides.
More than 900 Romanian ground forces, 1,700 American troops operating tanks M1A2 ABRAMS, BRADLEY combat armored vehicles and 47 Canadian servicemen operating infantry fighting vehicles are participating in the exercise.
The multinational exercise is based on a fictional scenario aimed at training troops for planning, carrying out and evaluating military actions in a joint environment, while developing the level of interoperability with the forces of the NATO member states as well as promoting regional cooperation with countries in the Black Sea area in agreement with the standardization requirements of the Alliance.
Georgeta Gheorghe