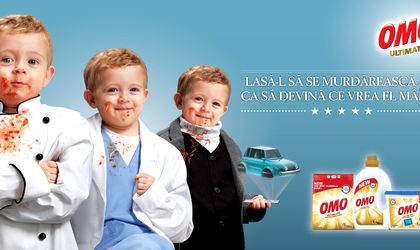 The experiment "Creativity versus stains", created by MullenLowe, completes the global campaign adapted by the agency following the pitch won for the OMO brand. 
In order to help the creativity fight the stains, OMO and MullenLowe have rolled out a local, unique experiment by which to show the mothers that their worries don't have to stop the little ones' development.
"We wanted to bring this brand with tradition, so appreciated and loved in Romania, in a different life stage, one in which the particularization of communication is very important, the reason for which we decided to work with MullenLowe, agency that developed relevant local content, adapted to the Romanian market. OMO comes back today in force, with a new formula, the most complete and performant one so far and we needed a communication partner to suit us. We felt that MullenLowe's proposals, perfectly completed with the PR expertize offered by the Golin team, have synthesized those elements that define the new positioning and that communicates integrated with our public," said Monica Tamas, senior brand building manager laundry, Unilever South Central Europe.
The OMO campaign started with a TVC about the role of stains in a child's development. The promotion mix is completed with OOH, in-store, online, BTL, social media and a strong PR component, offered by Golin.
The OMO team was formed by: Monica Tamas (Senior Brand Building Manager Laundry), Cristina Moraru (Brand Building Manager Laundry) and Irina Banu (Brand Building Executive OMO).
The MullenLowe team comprised: Manuela Gogu (Creative Integration Director), Simina Zidaru (Copywriter), Dan Costea (Senior Art Director), Alina Balan (Client Service Director), Adriana Tudoran (Account Director), Ionela Tatu (Account Manager) and Bianca Iancu (Senior Account Executive).
The Golin team that worked on this campaign comprised: Roxana Diba (Manager, Consumer Division), Livia Voicu (Senior Media Associate), Bianca Cenusescu (Junior Media Associate) and Raluca Duta (Chief of The Bridge).
Romanita Oprea