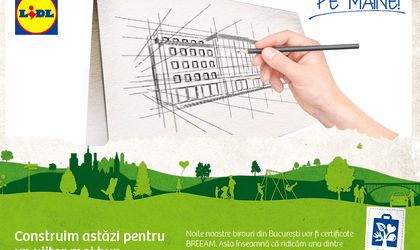 MullenLowe agency has rolled out a new campaign for Lidl Romania, which focuses on the retailer's employees, but also on the communities in which the company operates, underlining its sustainable development plan.
"Lidl's growth is based on a strategic, long-term vision, in which the responsibility towards the environment, the employees and the community represents a priority. MullenLowe has developed a creative concept that communicates extremely powerful and relevant our vision and puts the future into a new perspective, by a simple phrase, but full of meaning: See you tomorrow! (Pe maine!)," said Maria Parvuleasa, PR & CSR manager at Lidl Romania.
"The creative direction that the new campaign has been developed on is an invitation to build carefully a new day, an open expression that encourages the dialogue and the involvement. It also includes Lidl's proposal of contributing in an active and responsible way to the building of a better future, engagement that the platform will communicate to the external audience, but also to the employees," added Alina Balan, client service director at MullenLowe.
The campaign signed by MullenLowe is part of the global CSR umbrella of Lidl – "For a better future" (Pentru un viitor mai bun), that shows the company's preoccupation for sustainability and efficiency and includes a long-term green development plan.
The MullenLowe team that worked on this project comprised: Manuela Gogu (creative integration director), Simina Zidaru (copywriter), Valentin Lica (senior copywriter), Robert Soparlache (senior art director), Alina Balan (client service director), Andra Panaitescu (account manager), Andreea Lipara (research executive).
Romanita Oprea