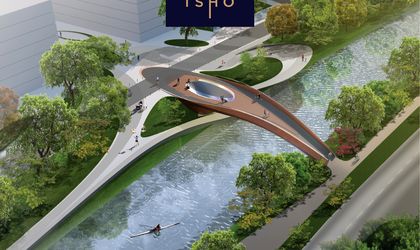 Mulberry Development, the developer of the ISHO mixed-used project in Timisoara, has designed a bridge and a pedestrian walkway in Timisoara, in the area where it will build a residential project and an office building.
The design of the two structures is made as part of partnership with Timisoara City Hall. The property developed has financed the design, while the municipality will implement the two infrastructure projects.
The 4-lane bridge will ease the traffic in Timisoara and will provide a link to the historical center of the city and the banks of the Bega river.
"We are coming with a proposal for a public utility that is functional anywhere in Europe, from a functional and esthetic perspective, in harmony with the urban development of the area, generated by the multifunctional project ISHO," said Ovidiu Sandor, the developer of ISHO.
Join Real Estate developers and experts at the 4th edition of Foreign Investors Summit and discover the latest forecasts and trends as well as new market entries and areas of interest.   
The bridge project was designed by the Timisoara-based architecture office Gaivoronschi & Andreescu. Meanwhile, architect Bogdan Zaha worked on the pedestrian walkway project. Timisoara-based firm SFF handled the technical design of the bridge and the walkway.
ISHO will be finalized in 2020 and the first components of the project will be completed next year. ISHO will have 1,000 apartments and 55,000 sqm worth of office spaces. The complex will also host schools, a co-working space, 2,000 parking spots, commercial facilities, and a park of over 7,500 sqm.