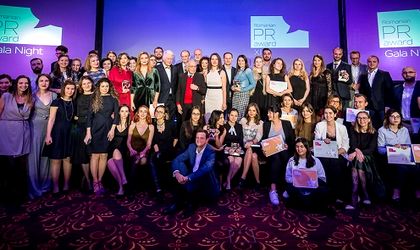 MSLGROUP The Practice was selected as The Agency of the Year during the 14th edition of the Romanian PR Award competition. 
"The year 2016 remains in the agency's history as a very special year. We are declared, for the fourth time, The Agency of The Year and we succeeded in keeping the title for two years in a row, in front of a very high competition from the other agencies. This is a unique situation in the local industry. This performance reconfirms the creative leadership of MSLGROUP The Practice and the high quality of the standards we are working with. Congratulations go to the entire agency's team and to all our clients that have all the merit for such an important achievement," said Oana Bulexa and Monica Jitariuc, managing directors at MSLGROUP The Practice.
The jury decided to offer the distinction "The Communicator of the Year" to Mihai Sora. The distinction "PR Professional of the Year" went to Corina Vasile, Communication and PR Director Raiffeisen Bank Romania.
The award "PR In-house Team of the Year" went to the communication team of AVON Romania, while the special distinction "PR Innovator of the Year", supported by Telekom Romania, and was given to Radio Itsy Bitsy & GMP PR & Point Public Affairs & GMP Advertising for the campaign "Quality time with the kids".
"Best Use of PR Measurement & Evaluation", a special award offered by Raiffeisen Bank for the third year in a row went to McDonald's (Premier Restaurants Romania) and MSLGROUP The Practice for the project "How to handle a hot potato".
This year's edition had a top international jury, reuniting competences from USA, UK, Germany, Italy, Belgium, France, Poland, Hungary and Romania.
The full list of winners can be seen here.
Romanita Oprea