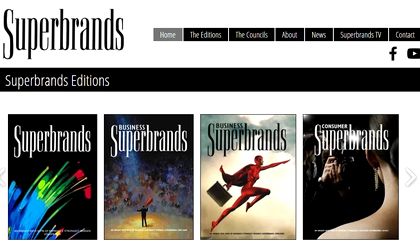 Superbrands Romania launches the latest local program, to evaluate the performance of products and services brands which directly target the final consumer, as well as the performance of corporate brands, from the perspective of business professionals in Romania. 
For the first time in the program's 10 years of history, Superbrands will acknowledge organizations with an outstanding reputation in the non-governmental sector, bringing a major contribution to the society or carrying activities in close cooperation with companies present in the Romanian market.
The Superbrands Council established for the current edition includes 30 noteworthy names of the business environment, professionals in business management, marketing, communications, media, representing various economic sectors in Romania and, for the first time ever, civil society representatives. The Superbrands Council will ensure the qualitative preselection of over 2,000 brands from a wide range of fields and industries.
The quantitative market research targets brands reaching end consumers and will be carried online, at a national level, on a representative sample of 1,500 respondents during January – February, 2017. The research is aimed at measuring Romanians' perception on brand reputation, from the consumers' perspective. The criteria used for the selection of eligible Superbrands are: reputation, trust, quality & market differentiation, according to the Superbrands methodology, which is closely observed by all projects carried out globally. The results of the market research will be available in March, 2017.
According to the latest Superbrands Romania survey, completed in 2015, the top list of most represented categories among local Superbrands includes sectors such as Electric and Electronic Equipment, Food, Beverages, Automotive and Home Care. At the opposite end there are brands coming from fields like Gas Stations, Healthcare & Medical Centers, Travel Agencies, which highlights both the dynamics of the investments in marketing and communication activities as tools to support and consolidate brands, but also Romanians' interest mainly towards consumption in the segment of daily use products and services.
Worthy to mention is also that the number of Romanian brands appreciated by the Romanian consumers has increased in the past years, from 20 percent in 2013 out of the total number of Superbrands, up to 28 percent in 2015.
Superbrands operates in over 100 countries across the globe, proactively stimulating, for over 20 years, the development of the local markets through specialised branding programs and the Superbrands books, acknowledging outstanding brand reputations, as well as the communication industry in each country via specialised programs like: Consumer Superbrands, Business Superbrands, Cool Brands, e-Brands, Sports Brands, Luxury Brands and others.
Romanita Oprea