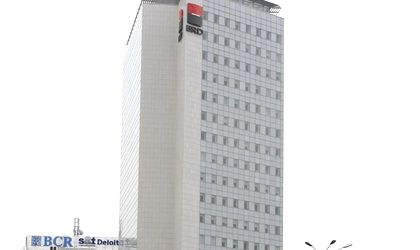 Rating agency Moody's cut the rating of BRD-Groupe Societe Generale on Monday by one notch to as part of a larger downgrade of 5 subsidiaries of the French lender Societe Generale, whose rating was also downgraded by one notch last week, due to volatility risk along with other 14 banking giants.
BRD's long and short term local currency deposits were downgraded by one notch to Baa3, with a negative outlook.
Meanwhile, the deposits in the foreign currency were affirmed at Baa3 with a negative outlook on long-term deposits. The bank financial strength rating was cut to D- with negative outlook. This means the subsidiary may require support from the mother bank at times.
Moody's said that BRD's downgrade was caused by Romania's sluggish economic recovery that lead to a rapid increase in the non-performing loans (NPL), which climbed to 16.8 percent of the total loan portfolio by December 2011, further expanding in the first quarter of 2012. The lender's profit is also expected to decrease due to higher provisioning of NPLs. This figure remains relatively modest at 43 percent according to the rating agency.
The rate of NPLs gained more than 3 percent year-on-year to 15.8 percent in March 2012, according to the National Bank of Romania (NBR).
BRD is also grappling with a large loan exposure in small and medium enterprises (SMEs) that took the brunt of the current crisis, leading to a hike in NPLs. This adds to BRD's euro-denominated lending, which accounts for approximately for 56 percent of the total loan portfolio.
The lender's outlook is negative due to increased pressures of asset quality, profitability and capital. In addition, BRD has lent around EUR 160 million to Hidroelectrica that became insolvent last week. This may exert additional pressure on the bank's balance sheet.
Although the lender has a Tier 1 capital ratio of 14.5 percent, this may prove to be a temporary cushion if the Romanian economy falls unexpectedly, warns Moody's.
BRD is the second-largest bank in Romania, where SocGen holds a 60 percent stake, with market shares around 15 percent in deposits and loans. Moody's said that BRD is likely to benefit from parental support. In fact, SocGen is currently financing the foreign-currency portfolio in its Romanian subsidiary.
Moody's may further downgrade BRD if it becomes loss-making or the NPLs further expand due to a bad economy. If Romania's rating is cut or the parent support reduces, BRD's rating may be cut. However, it may be increased on the long term if the banks is able to maintain its market share.
The net profit of BRD fell by 39 percent to EUR 19 million in the first quarter of this year.
Ovidiu Posirca