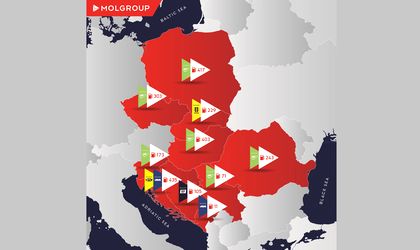 MOL today signed a set of agreements with Grupa Lotos SA and PKN Orlen covering the sale and purchase of several portfolio elements. MOL acquires 417 service stations in Poland that allows the company to reach 3rd position in the local fuel retail market. An additional long-term agreement provides motor fuel supply for the acquired network in Poland. The agreements are in line with MOL Group's updated long-term strategy "SHAPE TOMORROW" 2030+.
With this acquisition, MOL Group enters the 10th country with its Consumer Services segment. The number of service stations in the portfolio will reach 2390 from the recent 1943 units, operated under 5 different brands. This includes the recently acquired 120 OMV Slovenia service stations and the 95 new service stations in Slovakia and Hungary. These deals are subject to merger clearance.
Following the completion of the transaction MOL would emerge as a major player in the Polish fuel retail market, whilst today's deal provides an outstanding inorganic expansion opportunity and an excellent fit to the Consumer Services ambitious growth strategy.
"For MOL this deal represents a major step on the strategic transformational journey we started in 2016 and accelerated last year by our updated strategy. Acquisition of the ACG asset in Azerbaijan, construction of the new polyol plant in Hungary and our entry to Poland are all important milestones on the way to deliver on our goals. By this acquisition, we will gain access to the biggest economy in Central and Eastern Europe as well as to reach almost 40 million potential customers with our products and services. Hungarians and Poles are sharing the same historical experiences, our common goal is to ensure the safe energy supply of the CEE region, I believe that the North-South energy corridor will strengthen further with this agreement." – said Zsolt Hernádi, Chairman and CEO of MOL Group.
—
"This is a watershed moment for the Polish fuel industry. We are about to finalise the acquisition of LOTOS Group, a deal intended to benefit the entire Polish economy, both companies involved, their respective customers, employees and shareholders. Ever since the process was launched, we have emphasised that the priority is to derive additional benefits from the merger remedies, and we have achieved just that. In the retail area, we have negotiated with our Hungarian partner an asset exchange deal, which will directly advance our plans of geographical expansion by strengthening the retail chain in Slovakia, but also through the entry into a completely new market of Hungary"-said Daniel Obajtek, President of the PKN ORLEN Management Board.
MOL's regional footprint will be further diversified and the captive market extended in the largest economy of the Central and Eastern European region. The purchased set of assets would provide a basis for future growth in the country, where MOL had limited presence so far. Poland has strong economic outlook and high motorization rate with a massive market potential in the region with 23 million tonnes annual fuel consumption and 1-2% growth expectations in mid-term. The acquired network offers particularly strong market positions amongst highway stations with further organic growth opportunities and significant upside to expand non-fuel sales.
"A bit less than 1 year ago we introduced MOL's 2030+ strategy and our aim was to expand our service station network to 2200 units further in the CEE by 2025. By completing this transaction, we would even surpass this target as we welcome Poland in our Consumer Services portfolio.  We won't stop here as we believe that Consumer Services has a great potential along the way of the energy transition. Our aim is to serve an increasing number of customers and to provide mobility solutions in line with changing consumer habits, along with the best quality services and goods. Lotos's great network will be an excellent base for it"– said Péter Ratatics, Executive Vice President of Consumer Services, MOL Group.
Subject to the final approval of the Polish assets acquisition would MOL divest 185 service stations of its portfolio 144 located in Hungary and 41 in Slovakia to PKN Orlen for USD 259 million.
The deal is subject to PKN Orlen getting green light from the European Commission to close its merger with Lotos.