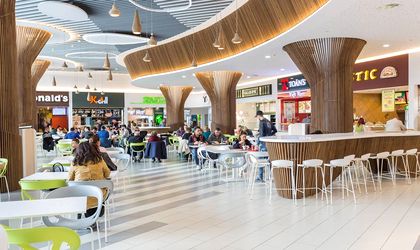 According to CBRE representatives, the modern stock of retail space, in Romania, currently stands at about 3.5 million sqm, of which approximately 1.1 million sqm are located in Bucharest. In 2018 and 2019, 16 retail projects are scheduled to be delivered in Bucharest and across the country, with an area of ​​about 302,100 sqm, 11 fresh built and 5 extensions of existing schemes.
Today, 11 new retail projects are being developed at national level, with completion dates in 2018 and 2019.
Four projects developed by NEPI, totaling 74,100 sqm of rentable area and delivered to Satu Mare, Sibiu, Târgu Mureş and Vaslui;
Four projects developed by Prime Capital with a total area of ​​59,600 sqm and will be delivered to Roman, Focsani, Slobozia, Baloteşti;
A project developed by AFI Europe in Brasov, with a rental surface of 45,000 sqm;
A project developed by Element Development in Bistrita, with a 15,000 sqm rental area, already completed;
A project with a leasable area of ​​8,800 qm, developed at Mioveni de Mitiska REIM.
With regard to enlargements, the following deliveries are scheduled for 2018 and 2019 in five projects:
47,000 sqm developed by Iulius Mall in Timişoara, within Openville;
22,100 sqm developed by Catinvest in Craiova, in Electroputere Park;
16,500 sqm project developed by Nova Imobiliare in Bucharest, Colosseum Retail Park;
6,000 sqm developed by Prodplast Imobiliare in Bucharest, in Veranda Shop & Stay;
8,000 sqm developed by NEPI in Ploiesti, Ploiesti Shopping City.
"One of the major trends that we've noticed is decreasing the number of new shopping centers under construction and increasing expansion or redevelopment projects. Another major trend is the change in the type of tenants' exposure. Food court areas and relaxation areas become attractions. Thus, apart from diversifying and increasing food court's, and witnessing the emergence of more and more spaces for experience virtual reality games, adventure type escape rooms, various sports such as climbing, jumping on trampolines, surfing and diving, "said Carmen Ravon, head of retail leasing of CBRE Romania.
Bigger stores instead of many stores
Lately, there has also have been a change in the use of spaces by the stores. They increase their area for a single unit at the expense of opening new stores in other shopping centers. Spaces are used for both sale and exposure to support the online commerce component. The accelerated growth of online purchases is thus supported and integrated into offline activity.
"Stores are growing bigger, serving both as sales space and as a showroom to support online commerce. In this way, the online and offline components are mutually supporting the economy of a shopping center, determining the need for larger spaces, ie expansion and refurbishment. This trend is natural in the era of technology, mobile applications where you can benefit from virtual test booths, where you can make 24/7 shopping and can be informed in real time about new collections, products, and more, " concludes Ravon.