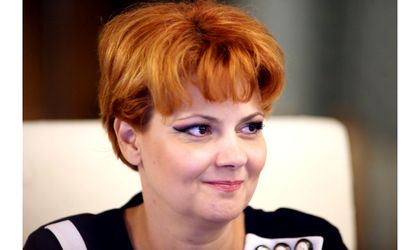 Employees will have a net salary increase close to 4 percent, after the social contributions will drop to 35 percent starting 2018, said the minister of labor, Lia Olguta Vasilescu.
"The employer doesn't have to give anything in addition, the net salary would remain the same if we didn't change the contributions, but we decrease the contribution from 39.25 percent to 35 percent and the tax per salary, so you'll see there will be an increase in the net salary, small, by 4 percent, but it's still an increase. You, the employees, are protected and we'll come with concrete data when we have the contributions change to explain very well and with arguments what it is about. There are many firms in Romania that don't pay the employer's contributions, they deduct them from the salary but they don't pay them forward. Those employees don't have medical assistance, don't benefit from these years at pensions. All these made us protect the employee," said Vasilescu.
She added that the contributions' transfer from the employer to the employee will enter into force starting January 1, 2018, once with the change of the Fiscal Code.
"The contributions are gathered by the employer and the company transfers them forward to the state as your contributions. The state gains from this transfer by increasing the pensions fund and the healthcare insurances fund. We want to have a smaller deficit in the pensions fund, especially because the pensions will increase, even if we'll still have a deficit," she explained.
She underlined that in 2017 it's for the first time after many years when "we have more employees than pensioners."