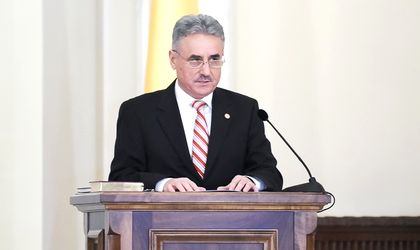 The budget activity in the first quarter of this year will close with a slight surplus and it's estimated that the state will collect an additional RON 2 billion in revenues, said the minister of Public Finance, Viorel Stefan.
"After two months the budget has an excess of 0.05 percent of GDP, meaning an additional RON 397 million, compared with 0.1 percent of the GDP in 2016. We are in balance, we have an excess and this trend will continue, as shown by the operative data on March and on the first quarter of 2017. It will be a slight surplus. Usually on the first quarter it's a deficit, not excess. The fact that we expect an excess it's a good sign, that we are in line with our forecasts. Usually, the first and second quarters bring almost 40 percent of the annual revenues and 60 percent are collected in the third and fourth quarters and mainly the third quarter is when the budget collection peaks. As the operational data shows, the first quarter means a collection between 22 and 23 percent of the revenues forecasted annually, " said Viorel Stefan.
According to the data presented by the minister, the budget revenues from the first quarter of this year were RON 50.16 billion, compared with RON 49.79 billion during January-March 2016.
"If we add what is collected at the local administration, meaning the self-financed institutions results, to these figures, there will be another RON 6-7 billion (in extra revenues – e.n.) to the collection from 2017, that can be compared with the first quarter of 2016, which is at the level of RON 55.5 billion," said the minister.