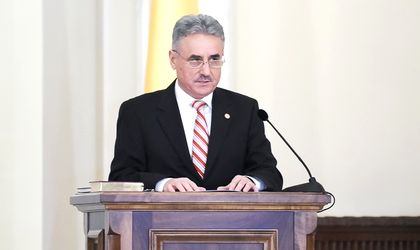 Minister of Finance Viorel Stefan spoke about the RON 10 billion that are allegedly missing and were not cashed during its term and accused the Ciolos government of lying. He said the Romanian Court of Accounts will check the way the budget was managed last year.
Speaking on Tuesday, Minister Stefan accused the previous government of disseminating a "big lie" in saying that the country was on a good path. Last year, he added, the government should have made a negative rectification, and not a positive one and accused it of a politicians behavior. Stefan explained that, according to preliminary data on the budgetary execution on 2016, with revenues to the state budget were lower than the estimates of the budgetary programming at the beginning of the year and budget rectification. He explained that, most likely, the difference comes from failing to attract EU funds.
He said that the "unlawful elements" found in the case of the budget managing will be subject to Court of Accounts.
Stefan also mentioned that he did not use the term "hole in the budget." "I said that the fact that through the two budget adjustments the revenues forecast was increased is not justified, given that incomes were not going to be obtained. A responsible government would have made a negative rectification, he added.
"It certainly raises a big question mark on the professionalism and on the technocrat character of governing in 2016," the Minister of Finance said, accusing the former government of a "politicized behavior."
Georgeta Gheorghe