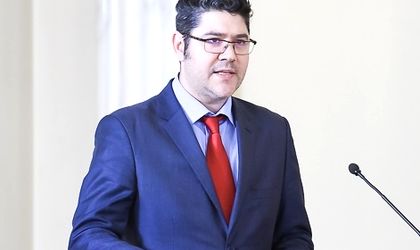 The newly-sworn in Minister of European Funds Dragos Cristian-Dinu said that during his term he will focus on setting up the overall system to manage the structural funds and on appointing management authorities.
Dragos Cristian-Dinu took office on Friday, after Cristian Ghinea resigned in order to run in the upcoming elections on December 11. "The term is very short. What I propose is to continue efforts I started as part of the Ciolos Government. I will focus on establishing the overall system for managing the structural funds, so that things can be prepared and functional indeed for the new government. I will focus on the process of appointing, so that management authorities can be appointed and on the conditionalities we have on the partnership agreement," Dinu said.
According to the minister, the level of absorption of European funds is not very relevant. "The level of absorption of funds right now is not extremely relevant, because, as a characteristic of this programming period, things started off a little slower, barely half of management authorities in the accredited EU states, half are not; that is why the absorption level is not extremely relevant right now. So far, efforts have focused especially on the closing area, so that we can absorb funds available to us for the previous period. That is why, a lot of efforts were put there and from 50 something, as [the level] stood at the beginning of the year, we reached something around 80 percent. Now, I will focus exclusively on the appointing part, so that things can start rolling," Dinu said.
The minister of European funds said his first visit since assuming office was to Cluj and that he will soon travel o Zalau.
Georgeta Gheorghe