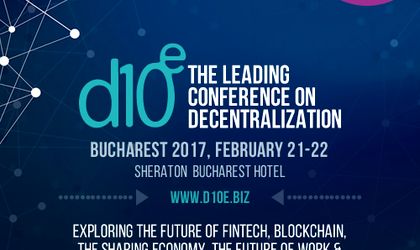 Leading decentralization conference d10e continued in Bucharest on February 22. The second day of the conference opened with a speech by Augustin Jianu, minister at Romanian Ministry of Telecommunication, who emphasized the importance of blockchains and digitalization.
" My focus for the future, as a minister is how to digitalize Government. I understand how administration works. The public administration has its roots before 1989, this hierarchy. This is why my proposition is to digitalize both administration and the economy," said Jianu.
A blockchain is a shared database providing transparency, or as Diana Biggs, global consultant, entrepreneur and philanthropist, said it is a "distributive immutable ledger". She emphasized that transparency is a key tool against corruption and technology can help enhancing transparency and can help the society.
A good example of technology in this blockchain are the crypto-currencies, especially Bitcoin. Bitcoin is digital and decentralized.
Brock Pierce, the managing partner at Blockchain Capial &chairman at Bitcoin Foundation, says he wants to disrupt the venture capital industry by selling security.
People have seen the Bitcoin advantages so it has become more and more used all over the world, including in the newly formed countries, such as Liberland, the first smart country based on blockchain and innovation. Liberland is a sovereign disputed state between Croatia and Serbia.
Vit Jedlicka, the president of Free Republic of Liberland, says he wanted to see how it's like to start everything from scratch, "to bring more liberty to the world". The infrastructure of Liberland is based on blockchain and they are used for contracts. The blockchain has an open registry and the president elects carefully the citizens who want to move there.
Photo source: bbc.co.uk
Alexander Borodich, chairman of Liberland Economic Council and a pioneer in the fields of innovation and blockchain world, said Liberland is waiting for startups and investors.
It's becoming more and more clear that the future is based on decentralizing authority and freedom in organization, so we can talk about a "new world of work" as Tom Thomison, founding member & partner at encode.org, said. In his view, the new world of work has a purpose, is holarchic, as flat systems are not sustainable, is autonomous, dynamic and transparent. This is why the key is the distribution of power.
Georgiana Bendre