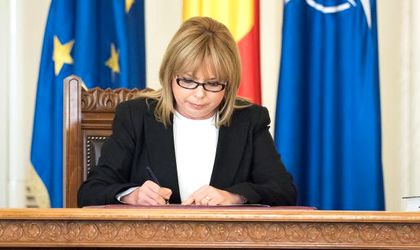 The Romanian Ministry of Finance doesn't intend to modify any tax in the near future, says the minister Anca Dragu, adding that the fiscal predictability is the "main element" in an economy, according to Mediafax.
Dragu was asked in a conference whether she agrees with the fiscal easing policy initiated by the previous Government and whether she intends to continue it.
"We don't intend to modify any taxes in the near future. We modified the transaction tax for the debt discharge law as you know. The transactions tax stays as it is in the Fiscal Code, " said Dragu.
She also added that the predictability is the "main element"within an economy, because it allows the firms and individuals to know in advance what taxes will have to pay the following year and thus, to think of the investments budgets.
According to Dragu, the Finance Ministry tries to increase the domestic offer to reach the stimulated demand level through the fiscal easing measures.
"You can see that once in five months the FDIs grew by 15 percent, they overpassed EUR 1 billion. We have significant pluses in industry, in all the domains. Somehow, indeed the offer keeps at the level of the stimulated demand through these measures taken a year ago through the new Fiscal Code, " concluded Dragu.
Georgiana Bendre