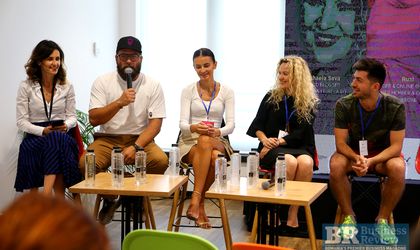 Startup PATH is an event dedicated to growth, to learning and to connecting the dots while having unique experiences. It brings together all actors of the startup scene, from universities, accelerators, to investors and thought leaders that would help entrepreneurs on their path to growth.
Here are the main statements from the panel on Millionaire Millennials: How The Interned Created A New Wave of Entrepreneurs.
Ruxi, Vlogger &Online Entertainer, Former Member &Co-Founder Like One
I create entertainment. I don't look at When you start, you should never start out with the idea of making money. The money comes later along the way.
I noticed that a lot of vloggers – the moment they hit a viral video think they've made it. But that's not the moment it gets easier. That's when the work starts.
I also hate the word influencer. It is starting to freak me out because it seems to be a 'dream job.' It is not a dream job. Everyone wants to be one, but not everyone can. I can legitimately say that the money started coming after three years. For two and a half years I've been working like crazy and not knowing what was going to happen. The secret is to be consistent and the money will come eventually.
Social media is nothing to be figured out. Honestly, there's no secret. To be genuine and being yourself. The internet is the most messed up environment you can be in. Once you're thrown in you'll see whether you can make it.
If I could I would limit the access to children to the internet. I do not enjoy being followed by children.
You should not care about what people think of you. Just do your job, stay focused because they're going to talk no matter what you do.
You should not ask influencers to educate your child. We should not change our content because minors are watching.
Maybe one of our secrets for success is that we started early, when vines became popular in Romania.
You figure out how to reinvent yourself.
YouTube and Instagram are the best platforms to be seen.
There's no competition for us apart from 'us' right now in Romania.
I pay the people who are in my sketches.
Mihaela Sava, Food Blogger LaPrajiturela.ro
I am also a content creator. Everyone asks me if I make food but my job is to make recipes.
Everyone thinks it's an easy job. Because I work from home.
If you are in a niche, you can't have the same figures of someone who is mainstream. You must be very serious about what you're doing. And the agencies will look for you and then they will consider you an influencer.
You must be yourself. Yes, you can get help from a PR. But eventually your true colours will show.
To a point you choose the audience but after that your audience chooses you. My public is made out of women, mothers so that is my niche.
I have a problem online with older people. They always have to say something about the recipes.
I have to learn a lot everyday, because the industry is evolving all the time. I had to learn how to Instagram by putting in four evenings. Now it is cool to eat quinoa, or to eat chia. I need to be updated on everything.
I do not have employees but I do pay collaborators.
I think you need someone to from outside. By yourself you might think you're doing a great job. But you do need specialists. I think you need help from the outside.
Mircea Popa, Content Creator, Entertainer MirceaBravo 
I am a millionaire. I have a million followers. The young viewers and the figures show if you are in a good position, your figures and your image show who you are.
In online you are talking as if you would with a friend. On TV it seems that you're acting.
I guess the type of content you put out attracts the content. But people get bored easily. So you must adapt, cannot do the same content for two years.
I do not employ people, but I do pay four people, including me.
It is hard for an influencer to be fresh every day. I am afraid of supra exposure. I am waiting for an influencer to reach four years on the market to see if they still have it.
You have everything right now. You have the platform, the tools. Just post and, according to feedback, adjust your content. I think in Romania the level of entertainment is not high.
Cosmin Tudoran- Content Creator – ProfuDeVin &Tudoran, Maga&Tudoran
I hate the term influencer. When people ask me about being influencer I always joke: 'What do influencers influence about'? You have to do your best work. With one hit you're going to be a one-hit-wonder.
On the internet you can do whatever you want.
Your work will choose the right audience by itself at some point. If you're doing like a TV station and you have Discovery Science, nobody will look at the latter if they don't understand it. But eventually even if you're niche, your audience will find you.
I do pay people to work for me. I pay wages.
Panel discussion: Bringing it home: Myth-busting panel sessions featuring local entrepreneurs
Flavia Scanteianu, co-founder of Dare to Rug
I co-founded handtufted designer rug brand in Romania. I am a designer and together with my partner we decided to create our own brand and have creative freedom. Hubcelerator allowed us to turn from the position of designer to that of entrepreneur. Now we own Dare to Rug as well as our design studio. We sell in Romania and abroad and we are keen on promoting Romanian design.
In Romania the rug market is very small. We countered the myth that people don't use rugs. In communism, a lot of people did use them, so a lot of us could have been tired of them. Then, they also gather dust. It was very interesting for us to come with a very daring colour scheme. That's why our company is called Dare to Rug. We want to trigger an emotional response from our clients. Our aesthetic vision is the game changer, and not the usability.
At the end of the accelerator, we were pushed to do a crowdfunding. We were skeptical about it but it provided the perfect pretext to promote ourselves. To share our product. The fact that we sold rugs – also to a foreign person who just liked it – was an encouragement for us. They kept on telling us that nobody will buy something online and that nobody will get something so bold.
George Georgescu, Founder Human Link
There's a lot of confusion around Human Link, our product. The company is called differently. We are connecting patients to caregivers. We have a smart watch that is worn by Alzheimer's patients. We started from a watch and later built all the services that are now included. We launched it commercially a few days ago and we will launch in Greece by the end of the year as well.
We went to investors with three pages and asked for half a million. We are three co-founders. And we saw three pages were not enough. We had the MVP – we participated but didn't win. Samsung is helping us with the online marketing. We're signing with Gap Minder for EUR 100 000.
I have a myth that you cannot be an employee and have a startup. I've used all my holidays in the past two days and all lunch breaks to work on the project. Everything was done in parallel with the day job.