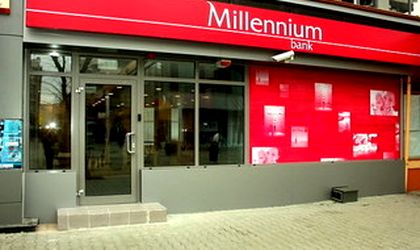 Millennium Bank Romania reported that its total assets at the end of 2010 reached RON 2.2 billion (EUR 517 million), 11 percent higher than a year before. The operating income went up by 9 percent, to RON 117 million (EUR 28 million). Despite the impact from the increase of VAT since July, operating costs decreased by 6 percent, to RON 176 million (EUR 42 million), fuelled by the successful implementation of a set of efficiency improvement measures.
The total volume of loans granted by Millennium Bank to customers reached RON 1.3 billion (EUR 303 million), registering a growth of 26 percent compared to the end of 2009. Customer funds attracted by the bank rose by 12 percent, to RON 1.2 billion (EUR 281 million).
"In 2010, we focused on consolidating our new business model shaped a year before and managed to strengthen our position. The bank's market share continued to increase on the two strategic business lines: mortgage loans and deposits", stated Jose Toscano, CEO Millennium Bank Romania. "In 2011, we continue our efforts to constantly increase our efficiency, reinforcing our long term commitment towards the local market", added Jose Toscano.
At the end of December 2010, the losses lowered by 38 percent, to RON 99 million (EUR 24 million), while the bank continued its investments in Romania. The financial institution maintains a solid capital position, with a solvency ratio of 19.6 percent.
As at the end of 2010, Millennium Bank had over 45,000 clients and 731 employees.