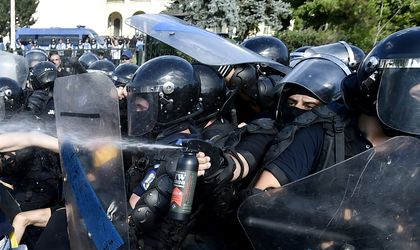 The head prosecutor of the Military Court, Ionel Corbu, contradicted Interior minister Carmen Dan this morning, who had claimed that the Gendarmerie's actions during the August 10 protest were supervised by a military prosecutor. Corbu said that there were no military prosecutors present in the mobile command center for the intervention in Victoriei Square.
UPDATE 2: Gendarmerie says military prosecutor Bogdan Pirlog did, in fact, join the command center and was present at the protest throughout the night.
UPDATE 1: Electricity was disrupted at the Military Court for about 45 minutes; case prosecutor complained that the court's activity was interrupted, suggesting that it may have been done intentionally: "Paradoxically, the disruption only affected our building," he said.
In fact, Corbu told reporters that only on the afternoon of August 11 did the Gendarmerie request a military prosecutor to be part of the command center, but the court rejected the request as it "exceeded the professional competence and deontology" of military prosecutors.
Earlier this morning, Interior minister Carmen Dan had said that she has nothing to reproach herself for when it comes to the actions of law enforcement on Friday night, and added that the Gendarmerie coordinated its intervention under the supervision of a military prosecutor.
Ionel Corbu also stated this morning that the Gendarmerie has not yet presented any documents requested by the military court as part of the investigation it is conducting: "Until this moment, the documents we requested have not been sent to us and I want to clarify that they are essential for clearing up some aspects," he said.
As for identifying the gendarmes who took abusive actions, he says that there are specific ways to find out who they are, including the fact that they have ID numbers on their helmets.