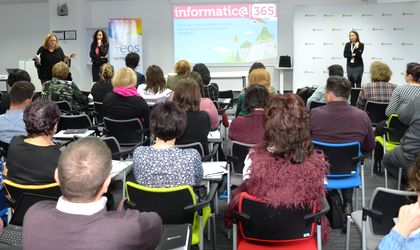 Microsoft Romania, in partnership with EOS Foundation and Certipro Education launch the IT project Informatic@365, aiming to bring solutions and training in IT for high school students, providing the schools, the teachers and high school students with the skills necessary for IT industry.
The project offers access to computer science training to 1,000 high school students in Romania via the portal Microsoft Imagine Academy. The courses Microsoft Technology Associate available on Microsoft Imagine Academy portal offers training sessions on three categories: programming, IT infrastructure and Data Base.
Aftre the training, students can take a professional certification exam.
On November 20 took place the first training course at Microsoft Romania headquarter in Bucharest, for teachers who will coordinate the project at the level of their county and will support the students.
"The Microsoft presence and of other important players in technology in Romania prove once more that our country performs well in this field and school has a key role. Technology is the field where learning can never end and I am glad that it is enhanced by teachers. Life Long Learning is a basic concept promoted by EU," said Gabriela Matei, General Director Microsoft Romania.
" We are opened to align our curricula to the current needs and the process already started. Starting this year we have in secondary school a subject named "Informatics and IT".  Informatics is the innovation engine worldwide and we aim to develop it at educational level to ease the access to the current and future  generation to this field," said Nusa Dumitriu-Lupan, General Inspector within The National Education Ministry.