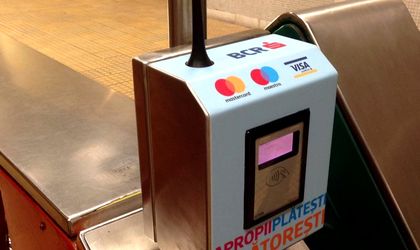 The Romanian Commercial Bank (BCR) is to introduce a payment system allowing users to pay for traveling by metro in Bucharest by contactless Mastercard/VISA bank card. The Metrorex, BCR, Mastercard and VISA partnership will be fully functional by the end of the year.
A total of 164 payment systems for contactless payment will be installed in all 51 metro stations of the Bucharest metro network. All owners of contactless bank cards, regardless of the bank that issued them, can pay for their trip by using the card.
It is the first time that such a payment solution is introduced in the Romanian public transport. Thus, Bucharest becomes one of the few European capitals, after London to introduce such a payment system for metro users.
Around 175 million travelers used the Bucharest metro system in 2015, respectively 480,000 people daily on average. The solution proposed by the BCR was built using systems developed by Mastercard and VISA, so that every card issued anywhere in the world by the two companies can be used to pay for the trips.
"We believe that implementing the Mastercard/VISA contactless payment solution right at the access gates will prove its usefulness, both at the level of traffic of the Bucharest subway, as well as when it comes to travelers. They will have at their disposal a modern payment method, with the highest use and absorption growth. This contactless payment system with mastercard/VISA cards is part of a wider BCR project relating to the public transport infrastructure," said Ciprian Nicolae, global payments country manager with the BCR-Global Payments partnership.
Georgeta Gheorghe