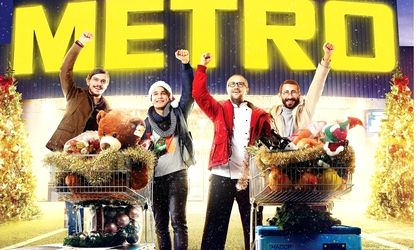 Retailer METRO has rolled out a special campaign with the help of Tempo Advertising agency targeting small business owners: they are the Christmas Champions and anyone can join them by discovering the best holiday offers.
The TV executions feature the entrepreneurs from Matei & Fiul small shop and Vagonul de Gatit restaurant, introduced by the METRO 20 Years anniversary campaign and the Small Business Day event.
Besides the TV communication, the campaign signed by Tempo includes online, radio and instore executions.
Tempo Advertising team that worked on the project includes: Razvan Mitoiu (Creative Director), Radu Vasile (Art Director), Adriana Chirtu (Copywriter), Mihai Preotu (Head of Strategy), Bogdan Ivascu (Group Account Director), Andra Sania (Senior Account Executive) and Andreea Racoceanu (Junior Account Executive).
From METRO Romania, the team members directly involved in this campaign are:  Marina Zara (Marketing Driver), Stratos Tsikmis (Head of Branding) and Ionelia Diaconu (Brand Communication Manager).
The TV spot was realized with Trilogy Film and directed by Iulian Moga.
Ovidiu Posirca