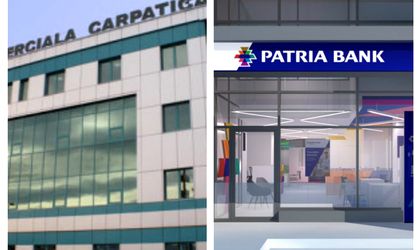 The merger between Patria Bank and Carpatica has remained in limbo after the move has been rejected by Appeal Court of Bucharest, according to an announcement submitted to the Bucharest Stock Exchange (BVB).
The banks had previously announced that the merger will be finished at the end of 2017, according to News.ro.
"The implementation of the merger process of the Commercial Banks Carpatica SA (BCC) with Patria Bank SA, which received the previous approval of National Bank of Romania on November 29 2016  has expanded, due to the last decisions of the Court. The banks will continue the legal stages to finish this last stage of implementing the merger as soon as possible," said Banca Carpatica in a release signed by Daniela Iliescu, member of the Administration Council.
As a result of the decisions of the Court, the bank doesn't give any deadline for the merger closure, but mentions about the legal steps.
"The arguments that support the appeal of the two banks involved in the merger will be analyzed in a further stage by the competent Court," says the release transmitted to BVB.
On November 29 the National Bank of Romania (BNR) has approved the merger draft bill of BCC with Patria Bank, which allowed the two banks to start the final formalities of registering the new bank and to start the integration operations.
Patria Bank reached 64.16 percent of BCC after the closure of the public offer from March 2016 to buy shares owned by the minority shareholders.