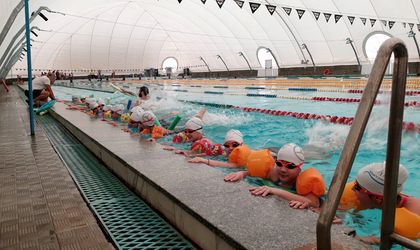 "I Swim. What's your superpower?", a project conceived to support Romanian education through sport, was announced by Mercedes-Benz Romania and the Camelia Potec Foundation. The project consists of swimming lessons for children coming from disadvantaged backgrounds. This year's edition will see 40 students, aged 5 to 13, from Bucharest and Ploiesti, taking the swimming lessons.
The lessons will take place in the January-March 2020 period, under the guidance of Camelia Potec, Olympic gold medalist in swimming and Mercedes-Benz ambassador for Romania, together with the trainers of the "Lia Manoliu" National Sporting Complex in Bucharest and the "Vega" Olympic Swimming Pool in Ploiesti.
The 40 children will come from the Secondary School number 40 in Bucharest and the Humanitarian Organization "Concordia" in Ploiesti. They will receive memberships to the mentioned swimming pools and all the required equipment for their swimming lessons. Also, their transport will be assured by Mercedes-Benz Romania, with two Sprinter vans.
"We are delighted to continue our partnership with Camelia Potec, through the `I Swim. What's your superpower?` project. Mercedes-Benz Romania proudly supports the values of Romanian sport and we are very happy to be able to enable access to better education through sport, for these children." Says Martin Schulz, CEO Mercedes-Benz România.

"We are happy to have such a trustworthy partner in Mercedes-Benz Romania, who understands and appreciates the importance of education through sport. This is the objective of the "I Swim. What's your superpower?` and the kids, as well as us, are very enthusiastic about the project." Adds Camelia Potec.