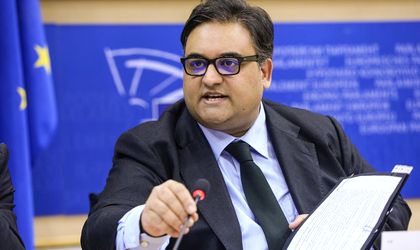 In a comment published today on his Facebook account, MEP Claude Moraes criticizes what he describes as "interference of intelligence services and political actors in the work of the judiciary." The London-based politician does not provide other specific details, but says he is "following with great concern the events in Romania."
Moraes is Labour MEP for London and Chair of the European Parliament's Civil Liberties, Justice & Home Affairs Committee.
"A strong and independent judiciary system, fair to all European citizens, is one of the pillars of the European project. We are following with great concern the events in Romania, where the interference of intelligence services and political actors in the work of the judiciary can only undermine the credibility of justice," Moraes wrote.
"The fight against corruption must not have a political bias, and the direction should not be determined according to different interests. Corruption must be eradicated wherever it lies, based on democratic and accurate trials, respecting the rights of those under investigation," the MEP said.
The post was liked on Facebook by former Romanian PM Victor Ponta, who also shared it and translate it, who "only understands German."
"I know – the new securitate [Ceausescu's political police] employees at Hotnews will say that also the President of the EP Commission is actually corrupt, or paid by Voiculescu, Ghita, Adamescu etc!!! This is how Securitate did during the Ceausescu regime: it said that foreigners "are misinforming. But Romanians know that Securitate was lying… then and now!"
Romanian Facebook users react to the criticism 
The post attracted mixed reactions, mostly from Romanian users, with some accusing the MEP of being biased, and others supporting his comments. "Mr. Morales I suggest you do a background check when you post something serious. Your post is vague and can lead some to think you are suggesting the judicial system in Romania is corrupt. For many many years politicians have got away even with murder in Romania. In the last 3-4 years, the judicial system has started to prosecute and convict politicians, finally. You are saying it has a political bias because it convicts only politicians from the social democrats? That is not true. Also that is not a motive to claim bias without looking at the mountain of evidence. Your post has attracted a big like from Mr. Ponta – the first prime minister to be involved in a criminal investigation, a proven plagiarist and a big friend to convicted politicians," Bucharest-based Octav Popescu wrote.
Another Bucharest-based user, Cosmin Mihai, replied to Moraes' comment saying: "LOL even your post is attacked by undercover information officers.
PS: Part of the blame can be assigned to the EU because it doesnt act on it. You have the legal power to help clean this mess up, but instead, foreign embassies do all they can to keep the same questionable people in front of the justice system."
Georgeta Gheorghe