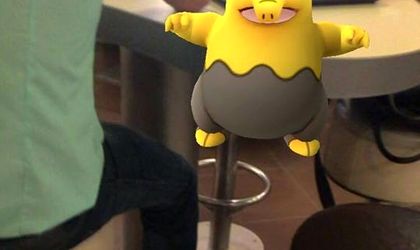 Restaurant chain McDonald's Romania alongside Tribal Worldwide Romania and OMD agencies brought the Pokémon Go characters in its restaurants from the Victory and Union Square in Bucharest. The brand activation took place on July 19.
The Pokemon Go Romania community accepted McDonald's challenge and announced its fans about the pokemons' presence. The players were invited to enter the Poke Treasure Hunt in order to discover as many pokemons as possible.
"We are always looking, with our agency, the favorable contexts for experiences that only McDonald's can create in order to get closer to its consumers, and now…we are searching together for pokemons. Poke Treasure Hunt is one of those relevant moments, a moment in which the brand comes a lot closer to its target," said Andreea Blejan, digital manager at McDonald's Romania.
"We have been intrigued by the game since we first saw it. When it was launched, we searched for pokemons in the office and we found an idea. We figured out that the McDonald's target is probably doing the same thing as us: playing Pokémon Go. Therefore, we decided to meet their needs and activate lure modules in two of McDonald's restaurants in Bucharest, in a pilot episode," added Catalina Ciorei, digital strategy and new business director at Tribal Worlwide Romania.
"OMD Romania, McDonald's Romania and the colleagues from Tribal Worldwide Romania worked together fir the implementation of this activation. (…) The feedback from the consumers is encouraging us to continue in this direction and to explore even more the potential of this type of activation," said Carmen Privache, group director at OMD Romania.
McDonald's is one of the first brands in Romania that activates the Pokémon Go platform.
Romanita Oprea