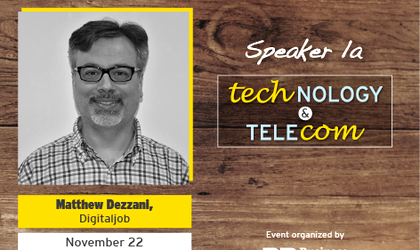 Matthew Dezzani, CEO of jobs platform Digitaljob, will speak during the eight Focus on Technology & Telecom Event, organized by Business Review on November 22.
He will join TRACK 3: Sustainability in HR. Insights from the most competitive workforce market.
While speaking in the third day of the Foreign Investors Summit, the event organized by Business Review in early November, Dezzani said that in 10 years from now a lot of people will be working remotely. He added that the demands of millennials have forced companies to look at CSR in different ways, while desirable employers need to lead by example.
Are you a IT&C professional interested in the latest telecom innovations? Request a free invitation for the event at events@business-review.eu