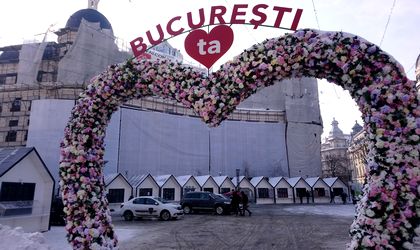 During February 24- March 8 the Bucharest Mayor Office hosts "Martisor Fair- Bucharest, your heart" in Universitatii Square, with the occasion of spring holidays- Dragobete, Martisor and International Woman's Day.
Mayor Gabriela Firea acquired illuminations, heart decorations, diamond ring decorations and bed decorations on a heart shape, all in value of RON 105,128, approximately EUR 23,000.
Unfortunately, what the Bucharest Mayor Office didn't forecast was the bad weather, whose effect was seen in the few customers at Martisor Fair.
Following the orange code of snow and blizzard  in Bucharest, Mayor Firea also decided to close down the schools and high schools for a week, the most important week for sales at Martisor Fair. With the schools closed down,
parents didn't have to acquire Martisor for teachers/professors, as the tradition says.  In Romania, children offer their female teachers/professors a "martisor". Also, males offer females a "martisor". Martisor, usually a small handmade object adorned with a red and white thread is worn in spring across Romania, Bulgaria (where it is known as martenitsa), Moldova, and Macedonia.
On the evening before March 1, there were very  few customers, looking around, and a few buying "martisoare". There were even less in the morning of March 1.
The vendors weren't happy at all, especially because they had to pay a rent for the lodges.
"I paid a rent of RON 500 for the period February 24- March 8, but due to the bad weather, the period will be extended by 2 days. We didn't have much sales during this period, " says Jeni C, a vendor at Martsor Fair.
"I hope that close to March 8 we'll have some sales," says Alina S.
Although there were few sales, the offer was diversified, the prices ranging from RON 4-10, depending on the complexity of the work, from the simple ones with a small object adorned with a red and white thread, to more complex ones,  hand-made with special designs. There were also bracelets, with a vintage design, necklaces, as well as hand-made decorations, reaching up to RON 50.  There were also goodies, such as ginger bread, chocolate, jams and other sweets.
Vendors are still there until March 10, waiting for customers with their products and hoping the bad weather will pass.