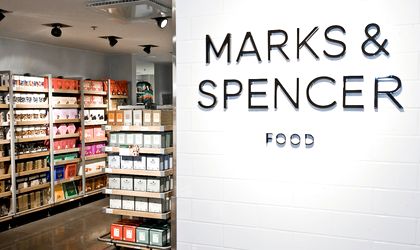 British multinational retailer Marks & Spencer will shut down its six stores in Romania as part of an international restructuring program that will see the company close down units all the units owned in Europe and China as they generate losses.
The retailer has been present on the local market since 2000 and has 101 employees that will be made redundant. The stores that will be axed are located in Bucharest Mall, City Park Constanta, Iasi, Mega Mall Bucharest, Feeria Baneasa and Plaza Romania. As part of the cost reduction measures, some 2,100 jobs will be slashed worldwide.
The company has analyzed the operations of its 466 international stores and came to the conclusion that the units it owned in 10 markets registered last year a loss of GBP 45 million and revenues of GBP 171 million. The retailer said that its franchise system, meanwhile, posted a profit of GBP 87 million last year.
Romania was among the countries where the retailer was not able to turn a profit.
"Taking into account the wider analysis of the group's international activity, we carried out an evaluation in depth of our activities in Romania and the growth opportunities on the long term of Marks & Spencer of the market. Our analysis has shown that in the last five years we had difficulties reaching a profitable rate and we can't continue our activity in Romania," said Jonathan Glenister, regional director for Europe, China and India at Marks & Spencer, according to a statement.
In total, the retailer has proposed the closure of 53 stores that it owns in China, France, Estonia, Hungary, Lithuania, Poland, Slovakia, The Netherlands, Belgium and Romania.
The company expects the restructuring program to cost around GBP 150 million – GBP 200 million. Going forward, the retailer wants to enhance its franchise system.
In addition, Marks & Spencer will continue to have its own stores in Ireland, Hong Kong and the Czech Republic, where its operations are profitable. The company is also selling its products online, through e-commerce platforms such as Myntra in India and Zalandon in Europe.
"Marks and Spencer is rowing back on its foreign business and closing a number of clothing and home stores. It's a bold move but one that could pay off. A fairly lacklustre store portfolio is a drag and M&S's return on capital is well behind its peers.

This is part of new boss Steve Rowe's ambitious turnaround strategy that is designed to arrest a long-term decline in sales and haul the retailer into the 21st century," said Neil Wilson, markets analyst at ETX Capital.
The retailer has 930 stores in the UK and 466 units internationally. The retailer sells clothes, interior decorations and food products. Aside from the UK, Marks & Spencer is present on 58 markets.
In the 26 weeks to October 1 2016, the company registered a statutory profit before tax of GBP 21.1 million, down 88.4 percent compared to the 26 weeks to 26 September 2015, when it recorded a result of GBP 216 million.
Marks & Spencer had opened its first food store in Romania last year.
Ovidiu Posirca