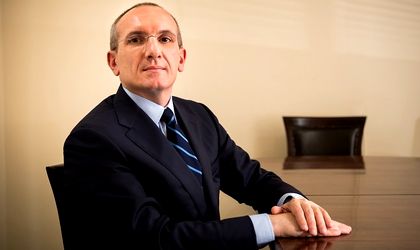 After increasing on average by 10 percent in 2015, farmland prices are set to remain on an upward trend this year, Marius Schiopota, managing partner of real estate company Hitch&Mosher, told BR. However, problems such as land fragmentation remain a setback for potential buyers.
Simona Bazavan
How do you expect the market for farmland to evolve overall in 2016, given last year's performance?
We expect it to maintain its dynamism and attractiveness. Over the past year we have seen investors show an increased interest in farmland acquisitions, due to both an appetite for growth and investments shown by companies active in the farming and food industries, and the higher yields foreign investors get here compared to other European countries.
What is your forecast regarding prices?
Compared to previous years which were still marked by the post-crisis lack of liquidity, 2015 was far more dynamic, with prices increasing on average by about 10 percent. Average prices varied between EUR 2,000 per hectare and EUR 7,000 per hectare, with the higher level reported in western Romania. Prices are influenced by factors such as land consolidation, the land's cadastre status, the availability of the necessary infrastructure for efficient farming and the soil's natural qualities. Farmland investments bring a good annual yield and that is why we expect the number of transactions to go up, which in turn will bring about higher sale prices.
Who is currently looking to buy farmland in Romania?
Our clients include both private Romanian companies which are interested in vertically integrating their agri-food business in order to secure their raw material supply, as well as foreign investors coming particularly from Western Europe. Most of them are interested in buying large plots of land, having in view a more efficient production process and investment yields. The largest surface we have brokered over the past years for such a client was 2,000 hectares.
Some 90 percent of our clients buy the land because they want to use it for farming. This explains their focus on buying quality land and large consolidated plots, because this way it makes sense for them to invest in equipment and technology. The remaining 10 percent buy the land for investment reasons, taking advantage of the fact that prices are not yet in line with Western European levels. But these investors choose to lease the land which means that that land will be cultivated as well.
Has the ratio between Romanian and foreign buyers changed following the market liberalization in 2014?
We haven't seen a noticeable change in this ratio since this date. What we have seen instead has been an increased number of investment funds from both Western Europe and the US buying land. Another welcome development has been that more and more Romanians are becoming aware of the opportunity of investing in farmland.
What is the average surface buyers are looking for?
Over the past few years we have brokered transactions ranging between 300 and 2,000 hectares. For our clients, the larger the land plot, the better. However, this is not always possible as the available land is very fragmented and with a legally unclear property status. Up to 30 percent of these land plots lack cadastre and intabulation documents, which is why we have set up a specialized company, Geodetic Control, which offers cadastre, geodesy and topography services.
How big of a setback is land fragmentation for potential buyers?
Land fragmentation does indeed cause problems for investors who plan to set up a large-scale farming business. Land consolidation can take from a few months to as much as two or three years. The cost of this depends on several procedures that need to be carried out, from identifying the plots that need to be consolidated, measuring them, verifying the ownership history of each individual plot and contacting the owners to finally buying the land. This means costs depend on several other factors, such as, for example, the region. In western Romania the cadastre situation is far better than in the rest of the country and it is easier to establish the land's ownership history or to verify any unclear situation. There is also the bureaucracy to consider. The pre-emption procedures alone add between three and six months to the acquisition process and even more if the land is not yet intabulated.
In order to help investors with this process we have set up Essimo Grup – a full service company dedicated to agricultural investments, which offers a wide range of services including land consolidation operations.
Has progress been made in tackling the land fragmentation problem?
I would say that right now we already have a coherent national program in place through which land is registered in the Integrated Cadastre System and the Land Registry. There are several pilot projects being rolled out in this sense. We consider this to be a very useful measure which enables a much faster registration of all land properties and we hope that this program will preserve its coherence. Overall, land registration makes the consolidation process much easier.
What were your financial results in 2015 and how many land transactions did you broker?
The companies that are part of our real estate group – Hitch&Mosher, Geodetic Control and Essimo Grup – posted a consolidated turnover of over RON 3.6 million (approximately EUR 810,000) in 2015.
Closing a transaction can take as long as two years, which is why we consider the number of transactions we reported over the past four years. Since 2011 we have offered consultancy services for the transaction of over 15,000 hectares of farmland, which places us in the leading position on this market segment.
Marius Schiopota – CV
He founded Hitch&Mosher in Timisoara in 2006 and has since served as managing partner. Prior to that he was general director of Fed Print, a printing house in Lugoj, and before that he managed several media businesses. Schiopota graduated from the Pontifical Gregorian University in Rome in 1996.