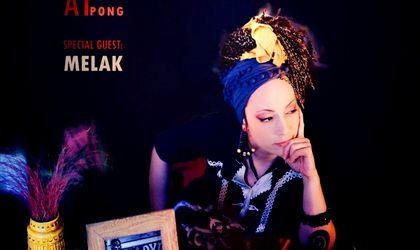 Petra Acker and Albert Tajti are a lively duo for three years now, and the two are joined by Britta Seidner with backing vocals, and Robert Erdos, who contributes through warm grooves at the cajon, a box-shaped percussion instrument originally from Peru. The Quartet sings a mix between styles like soul, jazz, gospel, folk, R&B, own compositions and cover versions of songs by the artists who inspired them.
The event, happening at Jazz Pong social club, starts at 22:00 and will feature special guests Melak (NOPAME) – percution and Fabian Sasu – voice.
Petra Simone Acker is a Saxon origin artist from Romania with a vast musical experience, gathered on the national and international scene (Romania, Germany, Austria, Hungary, London and Bratislava) through the collaboration with a wide number of troops (the Others, Tep Zepi, Chilli Familli) and musicians Alexandru Anastasiu (vibraphone), Joel Holmes (pianist and educator in New York, double Grammy nominee), Thomas Siffling trio, Elly Wright (internationally renowned jazz vocalist who has performed with Dizzy Gillespie and his band), Roger Treece (co-producer Bobby McFerrin) and many others.
Albert Tajti is one of Romania's groove 'visionaries', one of the most personal accompanists, arrangers and composers, singing along with Luiza Zan, Ana-Cristina Leonte, Teodora Spanu, Nadia Trohin, Elena Proud Michael Acker, Adrian Flautistu, Nicolas Simion Cristian Soleanu, Mihai Iordache, Alexandru Arcus, Bucharest Jazz Orchestra, Javra and Petra Acker .
Tickets cost RON 25.
Oana Vasiliu