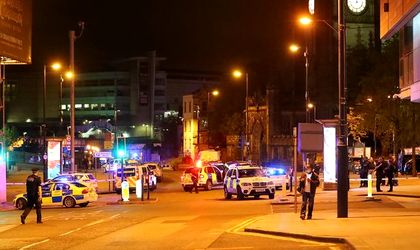 According to the latest data provided by the Romanian Ministry of Foreign Affairs (MAE), there are no Romanians among the victims of the Manchester bomb attack, which killed 22 on Monday evening.
The ministry is carrying out an investigation, which is not proceeding smoothly. "As soon as we have new conclusions, we will communicate them to you," MAE spokesperson Paul Ciocoiu told broadcaster Antena 3.
"All of our thoughts go to the families of those who lost their lives and towards those injured after the Manchester explosion," Romanian PM Sorin Grindeanu wrote on Facebook on Tuesday.
In a press statement sent to Agerpres, the MAE expresses its solidarity with the British people and informs that the Romanian diplomatic mission has requested information on the circumstances surrounding the incident and on the nationalities of the victims. MAE said it expresses "profound regret and condolences for the loss of many lives as well as its full hope for the fast recovery of those injured after the strong blast that took place on Monday."
Romanian citizens affected by the incident can request consular assistance at the following phone numbers 0044 20 76029833; 0044 20 76027328;0044 20 76036694; 0044 20 76025193; ; 0044 20 7603 0572; 0044 20 7602 2065. Calls will be processed 24/7 by the Contact and Support Center of Romanian Citizens Abroad (CCSCRS). Alternatively, they can call the emergency phone number of the Romanian diplomatic mission 0044 7738716335.
The blast hit the area near Manchester Arena at the end of a concert by US artist Ariana Grande. According to preliminary information released by the police, the attack was carried out by a suicide bomber.