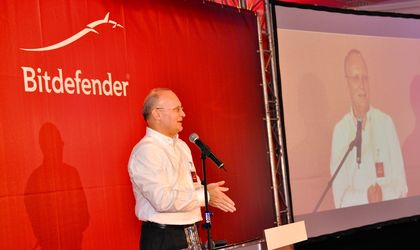 European private equity firm Vitruvian Partners has taken over a 30 percent stake in Bitdefender, the Romanian software security firm, from Axxess Capital for an undisclosed sum.
The deal marks the exit of Axxess Capital from Bitdefender after eight years. The co-founders of Bitdefender, Mariuca and Florin Talpes, remain the main shareholders of the company, while another minority stake is held by a group of private investors. The deal, pending regulatory approvals, values Bitdefender at USD 600 million.
"The wide experience of Vitruvian in the development of technology companies supports our growth strategy and especially the significant investments in designing the enterprise solutions portfolio and the presence in the United States of America," said Florin Talpes, the CEO of Bitdefender.
The software company has 1,300 employees in nine countries. Bitdefender is present on over 150 markets across the globe. Over 40 percent of its sales are generated on the North-American market. The company's R&D operations are based in Romania.
Vitruvian raised earlier this year EUR 2.4 billion through Vitruvian Investment Partnership III. The fund will be used to finance companies with high growth potential. The private equity firm has invested in over 30 companies such as CRF Health, Trustpilot, Callcredit, and manages assets worth EUR 5 billion.
The deal between Vitruvian Partners and Axxess Capital was handled by the London branch of Deutsche Bank AG.