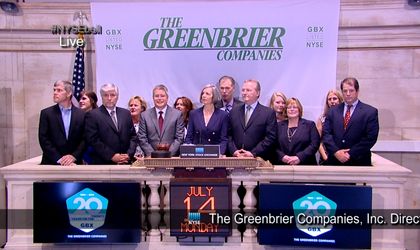 American Greenbrier Companies, a supplier of transportation equipment and services to the railroad industry, has announced a merger with Astra Rail Management, which has plants in Romania, in a bid to create a new company called Greenbrier-Astra Rail.
According to the terms of the deal, Greenbrier's European operations headquartered in Swidnica, Poland will be combined with Astra Rail based in Germany and Arad, Romania. The new company will be called Greenbrier-Astra Rail.
Greenbrier will control a 75 percent stake in the newly formed company. Astra Rail's chairman Thomas Manns will own the remainder of the new company.
"By combining the European operations of Greenbrier and Astra Rail, we will create a company that will be stronger and more able to pursue future growth opportunities in the European region and beyond.  This combination will expand our base of executive talent and will grow our engineering and technical resources for the support and development of freight railcar manufacturing and services throughout the world," said Manns in a statement.
As partial consideration for its majority interest, Greenbrier will pay Astra Rail EUR 30 million at closing and EUR 30 million 12 months after closing the deal.
Greenbrier-Astra Rail will be headquartered in the Netherlands and will have principal operations in Poland and Romania. The new company will have nearly 4,000 employees and 6 production and repair facilities across Europe, according to nasdaq.com.
Greenbrier owns a lease fleet of over 9,000 railcars and performs management services for over 268,000 railcars.
Astra Rail has in Romania three manufacturing, engineering and repair factories in Arad, Severin and Caracal.
Ovidiu Posirca