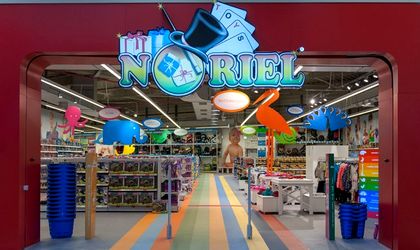 Polish private equity fund Enterprise Investors said Thursday it had fully acquired Noriel Group, the biggest toys and games retailer in Romania for an undisclosed sum.
Enterprise Fund VII has bought all the shares from the Constantinescu family, which founded the company, and Balkan Accession Fund, a PE fund advised by Axxess Capital.
The transaction is pending the approval of the Competition Council. EI said it will inject another EUR 2 million in fresh funding for Noriel's expansion.
"Once the transaction is finalized, we intend to replicate our successful experience with Profi. We will strengthen the management team with industry experts and we will support the further rollout of Noriel stores throughout the country in order to double the number of shops in the coming years," said Serban Roman, country director at EI.
Noriel was founded in 1995 as an importer and distributor of toys. Five years later it created its own production division manufacturing cardboard games and puzzles. The group was backed by Balkan Accession Fund in 2010 and opened its own network of stores.
Last year, Noriel grew its sales by 26 percent to around EUR 30 million. The retailer has 47 stores in 27 cities and also operates an online platform.
EI has close to EUR 200 million worth of investments in Romania.
Professional services firm PwC Romania and law firm RTPR Allen&Overy has advised EI on the acquisition.
Ovidiu Posirca