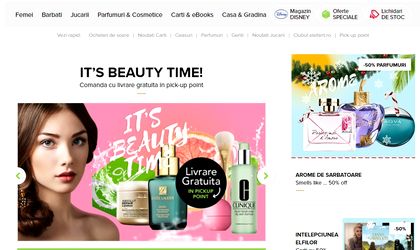 Online retailer Elefant.ro, controlled by businessman Ion Sturza, has attracted a new round of financing worth EUR 5.5 million from Emerging Europe Accession Fund (EEAF), which is advised by Axxess Capital, and Catalyst Romania, which is already a shareholder in the company.
Following the deal, the EEAF has become a minority shareholder in the e-commerce player. The deal is pending the approval of the Competition Council.
In the past six years, Elefant.ro has attracted money from investors in a several rounds. Catalyst Romania, which was advised by 3TS Capital Partners, became a shareholder of the retailer in 2014. Catalyst Romania is a private equity fund backed by EU money.
Dan Vidrascu, CEO of Elefant, said the fresh funding will be used for technology investment and for the expansion in Central and Eastern Europe (CEE).
"We have confidence that the management team is capable of taking advantage of the growth of the online retail market and we think that Elefant has the potential to distance itself from the rest of the competitors, holding a commanding second place in the market," said Horia Manda, managing partner of Axxess Capital.
Elefant.ro has over 600,000 clients and has operations in Romania and the Republic of Moldova. The retailer has 18 delivery points in six cities in Romania. In Chisinau, the company has a subsidiary.
The retailer had initially started selling books online, but has dramatically increased its range of products in the last few years, also adding various segments, including fashion and IT&C.
Elefant Online SA, the company that operates the online retailer, reported a turnover of EUR 17.4 million in 2015 and a loss of EUR 2.1 million. The company has 180 employees in the two countries.
Law firm RTPR Allen & Overy advised Elefant on the deal. Axxess Capital was advised by Tuca Zbarcea & Asociatii.
Ovidiu Posirca