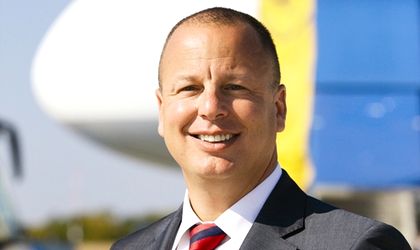 German carrier Lufthansa will introduce four weekly flights between Bucharest and Berlin from June 2012. Services will include both business and economy class cabins.
"Our most recent market analysis shows us that there is huge growth potential regarding the number of Romanian passengers on flights to Berlin, both for business and tourism purposes," said Ofer Kisch, general manager of Lufthansa for Central and Eastern Europe.
The introduction of these flights will be facilitated by the opening of the new Willy Brandt Berlin-Brandenburg Airport in June next year.
"With the opening of the new airport in Berlin, we will have flights to Bucharest and, including German Wings (ed. note: Lufthansa's low-cost division), we will become the only company that has direct flights on this route. We chose Bucharest because we see a high traffic potential between the two cities," said Kisch. The Bucharest-Berlin flights will be made with Airbus 320 and 319 aircrafts that are no more than two years old. The airline will also operate a new tariff system, allowing passengers to combine a Lufthansa and a German Wings flight on the same return ticket.
Lufthansa has also announced that it will double the frequency of its Sibiu-Munich flights to 14 per week, also from next summer.
"Every six months, we check the performance of the routes, the demand in a specific region and the potential for special projects as well as changes on the market such as the fact that a multinational might decide to open a big factory in that area," said Kisch.
However, in the case of Sibiu, the decision was a result of organic growth. "I cannot put my finger on a particular event or occasion that made us increase capacity to and from Sibiu; it is more the natural growth of the market which was very positive," Kisch told BR.
Speaking at a press conference, the GM added, "2011 has been a successful year for us so far and we have seen a 20 percent growth in the number of passengers on flights to and from Romania. We predict a new record number of passengers by the end of this year."
According to Kisch, the top destination of Lufthansa's Romania-based passengers is Germany. "In most cases, the number one destination of carriers is their home country. Of course, you also have another set of people who are continuing from Frankfurt and Munich to other destinations within Europe. And then there is a smaller selection of customers who are going all over the world, to places like North America or the Far East. But I assume that between 65 to 70 percent of people flying from Romania are going to destinations in Germany and Europe," Kisch told BR.
"Only Lufthansa has over 100 flights a week in Romania. If we add to these the new flights to Berlin as well as Swissair and Austrian Airlines flights, we can say we are the largest airline group in Romania. I feel like a national carrier in this country," said the GM. 

Otilia Haraga