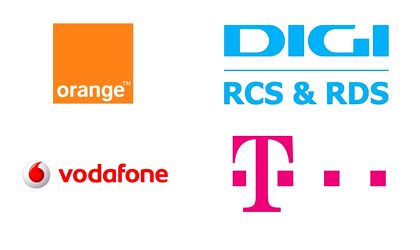 The net turnovers of the largest telecom operators in Romania (Vodafone Romania, Orange Romania, RCS&RDS, Telekom Romania*) all increased in 2017 – Vodafone Romania had the highest turnover hike, 30 percent over their 2016 result. However, all the telecom operators posted lower net profits in 2017 than in 2016, with Vodafone Romania again registering the largest difference from 2016, with a 62 percent lower net profit in 2017. In terms of the number employees, Vodafone, Orange and RCS&RDS saw no major differences from 2016 to 2017. 
*Telekom has only revealed its revenues and EBITDA for 2016 and 2017, while the analysis for the other operators focuses on net turnover, net profit and number of employees. 
Vodafone Romania's net turnover for 2017 was EUR 995.06 million, up 30 percent (EUR 229.91 million) from 2016. Their net profit in 2017 was EUR 15.42 million, 62 percent lower (- EUR 26.02 million) compared to 2016. Vodafone Romania had 2,508 employees in 2017, 279 fewer than in 2016.
Orange Romania's net turnover in 2017 was EUR 1.17 billion, up 9.1 percent (EUR 98 million) from 2016. Orange's net profit in 2017 was EUR 69.9 million, down 16 percent (- EUR 14.07 million) from the previous year. In 2017, Orange Romania had 2,361 employees – a similar number compared to 2016, when it had 2.371 employees.
RCS RDS had a net turnover of EUR 731.04 million in 2017, up 1.33 percent (9.64 million) from 2016. The company's net profit in 2017 was EUR 64.48 million, after it had posted a net loss of EUR 12.98 million in 2016. The number of employees increased from 11,122 in 2016 to 11,703 in 2017.
Telekom Romania's 2017 turnover reached EUR 1.07 billion, a slight increase from 2016. The result comprises Telekom Romania Communications and Telekom Romania Mobile Communications. Telekom's adjusted EBITDA was 9.4 percent lower in 2017 compared to the previous year, decreasing from EUR 175.2 million to EUR 160 million. The company's number of employees grew from 6,084 to 6,373, according to data submitted by the telecom company to BR.
Orange and Vodafone domintate Romania's mobile market, while Telekom and RCS RDS are both integrated cable and mobile groups, dominating  the TV cable sector.
Vodafone will soon enter the TV cable market in Romania, following the acquisition of UPC Romania.