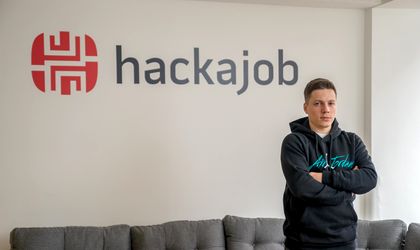 Hackajob, a technology start-up co-founded by the Romanian entrepreneur Răzvan Creangă, attracted an investment of USD 6.7 million from AXA Venture Partners and Downing Ventures in order to expand business and double its number of employees, including in Romania.
With the new financement, hackajob will invest in recruiting new talent so that the number of employees will increase to about 50 specialists in the Iasi office in the next nine months from 20 at the moment.
The company will expand its team with 40 specialists in the UK so that the number will reach almost 90 persons by the end of next year. Also, hackjob will open physical offices in most technology and entrepreneurship hubs.
Founded in November 2014 by the Romanian entrepreneur Răzvan Creangă and his colleague Mark Chaffey, hackjob was born after Razvan collaborated with a recruiting agency in 2014 to help them shape and implement their digital strategy.
During that collaboration, Razvan noticed how non-technical people recruited and evaluated technical people, which raised questions to him.
This situation, along with the previous experience in technology, has led Razvan to think of a platform that can promote technical merit-based people.
With a team of over 70 specialists, hackajob has the mission to connect the best digital talents with the most innovative companies globally.
"We have built a product that people love and want to take on globally in the largest technology hubs in the United States and Europe, with the first offices in Paris and Berlin. We will become a fully global company at the beginning of next year and I am happy that we will be able to grow especially in Romania, where the local market is rich due to its IT talents and thanks to the huge technological potential, "said Răzvan Creangă, CEO and co-founder of hackajob.