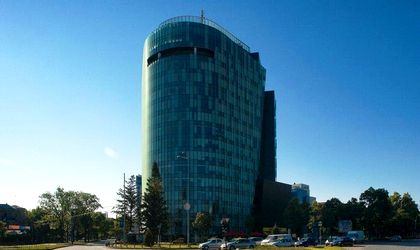 The logistic properties investor P3 relocated its headquarters to Charles de Gaulle Plaza, office building, owned by the German group GLL Real Estate Partners. The analysis and leasing process was assisted by Griffes, the real estate consultancy company founded by Andreea Paun.
P3 leased an area of 230 square meters of office space on the top floor of Charles de Gaulle Plaza building, located in the immediate vicinity of Aviatorilor Metro Station and across the street from Herastrau Park.
"We have chosen Charles de Gaulle Plaza for our new office in Bucharest, because we wanted to be in a representative location, close to our business and partners and clients, but also having an easy access to our properties", stated Emilia Bocan, senior leasing & development manager P3 Romania.
P3 builds, owns, develops and manages logistic properties in Europe with over 4 million sqm of leasable area. In Romania, P3 owns 14 buildings and over 100,000 square meters of land for new developments.
Charles de Gaulle Plaza is one of the most representative A-class office buildings in Bucharest, with an area of 23,000 sqm of leasable space on 16 floors, plus five levels of underground parking.
The building is owned by the German investment fund GLL Real Estate Partners, active in Europe, the United States of America and Latin America, a fund that manages more than 60 properties in Europe alone worth of over EUR 3 billion. In Romania, the fund also owns Floreasca Park and Victoria Center office buildings.
Griffes is a real estate consultancy company founded in 2016 by Andreea Paun, following an experience of more than 12 years in real estate (office segment) and communication. Clients assisted by Griffes in the development or set-up of operations in Romania include the Japanese IT company Pole to Win, the Japanese software company NTT Data, the IT & outsourcing company Wipro Technologies and the UK  paying operator PayPoint Romania.