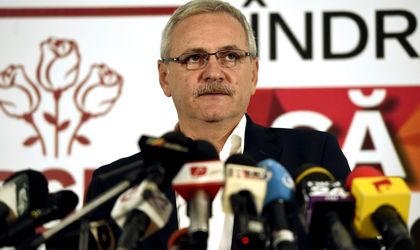 Social Democratic Party (PSD) head and Chamber of Deputies chairman Liviu Dragnea was put under criminal prosecution by the National Anticorruption Directorate (DNA) for setting up a criminal group, abuse of office and EU funds fraud. 
UPDATE. In a recent statement, Liviu Dragnea said he "firmly" rejects all accusations, saying he does not have any connections with the Tel Drum company and that a part of the allegations was investigated in the past. The PSD head also said he will not resign as party head.
"I certainly do not feel guilty. I did not set up a criminal group. I am curious to see what criminal group I set up 16 years ago."
Dragnea is being prosecuted in a case relating to alleged offences in connection to the company Tel Drum perpetrated during his term as president of the Teleorman county council.
According to a statement of the DNA, Dragnea was prosecuted for setting up an organised criminal group, two counts of using of presenting false, incorrect or incomplete declarations in ill faith, in order to obtain unlawfully EU funds and two counts of abuse of office. Other eight people are prosecuted for similar offences.
According to the DNA, the case was built up based on a notification by the European Anti Fraud Office (OLAF) sent in 30 September 2016, under suspicion of committing offences, including misappropriation of EU funds for rehabilitating the roads in the Teleorman county.
"The suspect Liviu Dragnea, president of CJ Teleorman, initiated an organised criminal group that is currently in place and which also included public servants of the institutions of the public administration and people from the business environment," the DNA said in a statement.
"The group, initiated in 2001, has as main objective to obtain illegally of substantial amounts of money from the contracts funded from public funds (national and European), by conducting abuse of office, EU funds frauds, embezzlement, money laundering and misusing and giving access to information that was not meant to be public," the statement said.
In a Monday press release, OLAF said: "OLAF found evidence suggesting collusion between the beneficiary of the funds, public officials and the contractor, including falsification of documents during the procurement procedure. Some of these documents were also used in support of the claim which the beneficiary submitted to the Managing Authority, resulting in the payment of EUR 21 million from European Union funds.
OLAF's investigations were concluded with a financial recommendation to the Directorate-General for Regional and Urban Policy, to recover the full EUR 21 million, and with judicial recommendations to the Romanian National Anticorruption Directorate to initiate judicial actions into the matter.
"This investigation is a perfect example of the positive cooperation between OLAF and national authorities," OLAF Acting Director-General Nicholas Ilett said. "OLAF conducted thorough investigations that we hope will have a strong deterrent effect," he added.