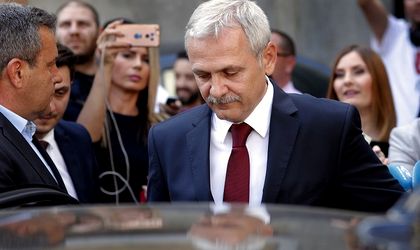 A five-judge panel at the High Court of Cassation and Justice (ICCJ) has convicted PSD and Chamber of Deputies chamber president Liviu Dragnea to 3 and half years in prison for inciting abuse in office in the DGASPC Teleorman case, where two employees were falsely hired at the Child Protection Services Agency in the county, while actually working for the local PSD organisation while collecting their salaries from the Agency. At the time, Liviu Dragnea was the president of PSD Teleorman.
The initial court had convicted Liviu Dragnea to 3 and a half years in prison, and the decision was appealed by both prosecutors and defense attorneys. Today's decision is final.
On Sunday evening, asked whether he was afraid of the upcoming ICCJ decision, Dragnea said "I'm not afraid of anything (…) It's not about fear, but if the judges resist to these inimaginible pressures they'll decide to acquit, because I'm totally innocent; if they can't resist, they'll convict me."
The sentence is the second severe blow for Romania's main ruling party, PSD, following the hard defeat in the European election.
According to preliminary results (96.35 percent counted), PSD ranks second with 22.7 percent of votes – a historic defeat for a party that got 45 percent of votes in the 2016 parliamentary elections -, far behind PNL (27 percent).
Liviu Dragnea is convicted, everybody rejoices
"The ICCJ's decision is proof of the magistrates' independence and of the fact that Liviu Dragnea failed, despite all desperate attempts, to kneel the Romanian Justice. To get rid of his conviction and to make his political case, Liviu Dragnea turned to all sorts of tricks and actions profoundly damaging to the rule of law and democracy. We have all been witnesses, in these two years, of the PSD government, to his and his comrades' horrors against Justice. With the previous conviction in the referendum case, Liviu Dragnea should not have been in public life anyway, but in the absence of clear regulations Romania assisted powerlessly to all he did from the position of the third most powerful man in the state," according to Dan Barna, the leader of USR.