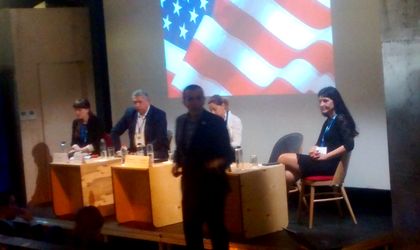 Business Reviews is organizing today the fourth SMEs How-To. You will find here the main statements from the panelists – entrepreneurs, venture capital bosses, bankers and government representatives. 
Ramona Ivan, director of external relations and structured finance at CEC Bank, said that companies that have taken out EU funds should get used to audits from authorities.
Mihaela Toader, general director within the ministry of EU funds, said the Human Capital Operational Programe has funds for entreprenuers in Romania.
Toader said the ministry wants to create a risk capital fund for SMEs that are growing but also a separate one for start-ups. This would replicate the Catalyst fund.
Cristian Nacu, partner, Enterprise Investors: In 2010, we bought the Profi chain, which had opened 67 stores in 10 years. We are looking at models that can be replicated.
"Since then, we replicated the model across the country and we have reached close to 400 stores. This year, we will celebrate the store number 400 and 500," said Nacu.
"This year we will open 125 stores," said Nacu, adding that the retailer had opened 100 stores last year.
"Don't do business out of passion, but with passion and based on rational principles," said Nacu
Marius Stefan, CEO, Autonom Rent a Car: In 2005, he said he bought 3 cars in his home-town in Piatra Neamt, to start his vehicle renting business and at the end of the same year his company had reached 14 cars.
Initially, the business had been set up by his parents, but in 2006 he founded the company. At the end of 2008, the company was renting 500 cars it owned.
Stefan said that initially, his clients were Romanians that were working abroad and were spending their vacations in the country. Next, he started to work with corporate clients.
He said that at this moment, the company has 3,000 cars, 220 employees and 40 HQs.
"I don't believe in HR but in payroll," said Stefan. "I think each manager needs to have HR capabilities," he added.
He said he doesn't believe that much in interviews eitherm but in the first three months since employment.
Andrei Pitis, founder and CTO at Vector Watch: Grow the business through innovation and creativity that is programmatic.
"Allocate 2-3 hours in which you are not thinking at anything," said Pitis.
"To predict the future I am looking at what children at doing right now. (…) Most of the kids that are connected now, will not want a unconnected watch when growing up," said the head of Vector Watch.
Pitis was asked if the company was interested in launcing a smart phone: "Short answer, no Vector Phone. Our focus is on wearables."
He added that the company has invested EUR 7 million up to now.
Catalin Rusu, chief creative partner & CEO, Rusu+Bortun Brand Growers: Entrepreneurs should learn the tools that branding specialists operate with.
In social media, the crowdculture has increased a lot, said Rusu.
Raluca Ene, managing director at Chapter 4, the PR agency, explained that at some point, companies should decide if they need an agency or a communication consultant or freelancer.
"The advantage of the consultant is it can provide assistance that is tailored better for you," said Ene. She added that PR builds awarness and it can contribute to the increase of sales, but not on its own.
Carmen Punga, industry manager, Google, has presented a special tool which can be used by firms willing to export their products based on the search technology.
Monica Cadogan, CEO, Vivre: Our main opportunity has been the fact that we had a serious approach with investments on this industry.
We are controlling internally everything from the technologies we are making, to marketing and sourcing, added the CEO.
Cadogan said the company has processed 400,000 products up to now. She added that Vivre has expanded regionally in six countries, in the last three years. She said the share capital of the firm has been increased to EUR 900,000.
Marius Bostan, minister of communications and for information society: The single digital European market is a great opportunity for companies
Sergiu Negut, angel investor and associated dean at Maastricht School of Management Romania:
If you want a product idea you need to find your niche and the formal education doesn't encourage this, said Negut.
Alina Georgescu, sales director at Ymens, said the company brought two years ago a management team that had extensive experience in the multinationals sector.
We haved promoted more our own products with our own Intellectual Property and got financing from the BSTDB and World Bank, said Georgescu.
Mihai Sfintescu, administrator, venture capital and equity funds: You need to have a product as standardized as possible that you can sell to as many clients as possible.
Investment funds are attracted by a good plan to become bigger as a company, said Sfintescu.
Bringing a professional management team has to happen at a later stage in a company, to bring more order and speak with the institutional investors, according to Sfintescu.
He said the market is more developed at present with deals over EUR 5 million. In transactions between EUR 1 – 5 mln there are a few options. "Right now, the community of IT and VC we are trying to build an ecosystem", said Sfintescu, explaining this means making the whole financing chain work from pre-accelerator to seed capital and the next stages.
"The IT community should move more into products," said Sfintescu.
At present, I am raising a new seed fund that will invest between EUR 250,000 and EUR 1.5 million in start-ups, said the venture capitalist.
"In seed there isn't any institutional investor," said Sfintescu.
He explained that a seed fund usually wants 20 to 30 percent of a company it is financing.
Mircea Capatana, co-founder, Smart Bill: "In 2013 we were trying to get financing. (…) We changed our business model from a bankrupt one, which wasn't scalable."
He said Smart Bill has reached 35,000 clients in total, in 9 years of activity. "Our clients are SMEs," said Capatana.
"We want Smart Bill to be for SMEs what the internet was for computers," said Capatana.
He said the company has lanched a version of its platform for India that already generates USD 7,500 each month without much effort. Capatana said that the firm has already ventured in the US, but that market has competitors that are too big.
"We are targeting 100,000 firms in the next 5-10 years," said Smart Bill's co-founder.
Rares Medrega, senior trainer, Allianz Tiriac: "Entrepreneurs feel the impact of the risk more"
Romania has the second lowest rate for insurance penetration in the EU, said Medrega.
Medrega added that Allianz Tiriac has paid RON 400 million for claimed damages in 2014.
Oana Craioveanu, managing director, Impact Hub Bucharest: I gave up my job in a bank five years ago. I started this organization with two friends.
First we launched a co-working space that had 50 sqm.
It's easier to use to use a co-working space than lease an office.
"One a half months ago we launched Impact Hub Cluj-Napoca. There are 1,200 sqm of co-working and event spaces", said Craioveanu.
Craioveanu said the hub doesn't have an accelerated growth model and that they are still paying a bank loan for their investment.
The head of Impact Hub Bucharest said the firm had 50 clients right from the moment when it launched four years ago. The average age of community members is 32. We have entrepreneurs, freelancers as members. He said that also online marketing specialists and even lawyers use their servie.
"In Bucharest we have reached maximum capacity," said Craioveanu, adding that a company stays around 2/2.5 years in the hub.
Edouard Millot, business development partner at Finexpert:

Edouard Millot, business development partner at Finexpert: We have developed new products, tax and consultancy, aside from the accounting part, which is very technical.
We have a very big growth and the outsourcing market is very dynamic. He said the company, which was founded in 2003, has 100 employees and offices in Bucharest, Timisoara and Cluj-Napoca.
"Right now, young people don't look for a job but for personal development," said Millot.
Daniela Marin, Director BAS Program, EBRD: "SMEs represent 99 percent of the companies in Romania. (…) They bring value-added below 50 percent".
We are providing tehnical support and grants for SMEs, said Marin.
She said that grants by the EBRD for SMEs amount to EUR 10,000. "We have implemented close to 600 projects in Romania". Marin said this program has been rolled out in Romania starting 2006.