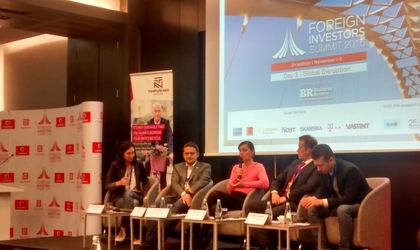 The Foreign Investors Summit, the 3-day exclusive event organized by Business Review magazine, continues with the third day, in which we will explore the local entrepreneurship scene and the financing opportunities for companies in different development stages, be they start-ups or mature firms.
The first day of FIS2016 presented the wider picture of the local business environment, which includes the public officials and the private sector representatives. In the second day of the FIS, we analyzed the industries with high growth potential that have attracted a lot of investments in the past year, including IT&C and automotive.
Robert Neivert -Venture Partner at 500 Startups QUALITANCE Advisor
The pace of innovation has increased. Success is now directly linked to innovation, not just the ability to control resources, how it used to be. What makes large companies successful, it also kills them. That only works well if you forecast the future. And in the world of startups, everything is volatile.
Startups do not have access to capital, do not have resources that large companies have. Then, why not partner them? This way you get the best of both worlds.
First, find your objective. You have and know how to measure. Secondly, pick what company to work with, internally or externally. Ask yourself: do I trust this person? Choose people you trust, and who have the skills you do not have and cannot develop. Then, create infrastructure you can handle. You need an agile infrastructure, so have a very low cost structure. Next, think small and remember that data wins. When you run a test, and the results are negative, you do not have a verdict, you have a fact, valuable information. Roll with the chaos. It is in the nature of companies to want to control things. But if you cannot control risk, go with it.
Industry Zoom: Impactful Entrepreneurial Ventures
Ilinca Paun – Managing Partner, Colliers International
In Romania we have a lot of entrepreneurial spirit. Young people hate corporations. That is why, they should integrate more startups in their structure. Young people are much braver than we were.
Parents of teenagers believe that the faculties abroad will give those who attend them connections and are conservative. They have a fear of participating and giving it a try.
How can success be defined? If you have a vision and mission for the company to achieve, for the group and a way to keep people together and have an impact on society, you are already successful.
Bogdan Iordache – Managing Director, MVP Academy
The impact of technology in nurturing entrepreneurship. I come from Turnu Severin and there nothing happens, it's such a pity. Being raised in a small town, I thought that entrepreneurship in any form is valuable. Entrepreneurship empowers people to take charge of their lives.
We are very lucky to be part of this transformation, to carry it forward. What can we do to impact entrepreneurial education? It can be started at a very early age. In the US, you teach kids to make lemonade and cookies to strangers. My first job, as a shy IT student, was to sell bingo tickets at Izvor metro station. To be able to do that at an early age is very valuable. I believe you should start soon, in kindergarten. Do not read books about it, but do something, be an entrepreneur.
Patrick Gates – CEO, Symme 3D
What Romania really lacks is management. One of the problems is that young people, or people my age as well  think too much in Silicon Valley terms. Are too tied up in American culture.
Dan Stefan –  Managing Partner, Autonom 
We criticise too much and are world champions of potential. We should not focus on what we could do. But instead on what we are doing. We need trust in ourselves and in others. How do you create it? It takes time. We have a cultural problem. How do we have more courage? We lack models, nice examples, and each of us can be a model to someone, to his kids and friends. Let's try, this is how you change the world.
A successful year for me is when I had more clarity and when the people are a little bit happier.
Funding round. Perceptions vs Realities I Special interview session
Marius Ghenea – Investment Director, 3TS Capital
Perception about Romania has improved in the past years. We see big players in private equity coming to the country.
Romania has the highest GDP growth in the region, financial markets are stable. Political stability is important. Neighbouring countries such as Bulgaria, Poland, Ukraine, Turkey have political issues, which makes Romania a safe destination for investments.
A startup can be in a very different stage. We only do revenue-stage startups. When they have a product that we believe in or the entrepreneur has a proven track record, we could be interested, but this is exceptional. What is needed is a solid team as well as a business plan, but the team is very important. If the team is not good, the business plan is useless.
We invest in local companies that can become global challengers. We do not expect to breed global leaders, but we do expect local challengers.
We believe the travel industry is an untapped industry. Agriculture and related industries, such as food processing are also interesting. Also, the energy sector, which is usually limited to traditional and big investment. However, there is potential for smaller investors. And of course, we should go for renewables, and not fossil fuel.
eMag could be an unicorn in the future, but not many are going far enough to develop their potential. Only companies that can scale can become unicorns and traditional-minded comoanies cannot do that. You must find entrepreneurs, there has to be a magic thing so that the company can become a unicorn. Also, you must persevere and not make an exit. But on the way to becoming an unicorn, you could go to bankruptcy.
Matteo Patrone – Director, EBRD Romania
Romania is on the map of investors. This is a very interesting wind of opportunity for the country. Turkey is not the promised land anymore. There is fertile ground. A number of things to be careful about.
We have two products for SMEs, under two pillars: the financing stream and the advising stream. The financing stream is divided in two activities : direct investment together with partners we finance small tickets, or we finance banks.
The advisory stream is deployed in synergy with the first pillar. We advise SMEs in all sectors and different areas from government to. For smaller companies we employ local consultancy firms and for larger ones we use international consultancy companies.
Sergiu Negut – Angel Investor
Although most of our neighbours are doing well, being an island of smth that looks like something attractive is not necessarily helping us. For the larger region, it is not going well, because investors want a big market, meaning the whole region.
Only in the moment you figure what product will sell to the public, you can make a business plan, a realistic plan that you will be able to make some money. Before that you cannot make an evaluation. If you want to attract money before making money, you must be an expert in the field.
We have very well qualified IT professionals, but the sector has grown based on outsourcing. They work mostly for foreign clients and I expect this trend to continue. What we miss is a competence in the marketing and management area. We have well-skilled professionals that need to be managed by someone else.
Therefore, we need to bring some sense of international marketing. We need to think of products that in incorporate IT knowledge but also international marketing knowledge.
There are many beasts around, but not much unicorns. I am a non believer in unicorns. In IT there is little difference between eMag and Dedeman. They are leading their market. There are other companies that are leading their sectors. The size of the market do not justify the plans to become so big, therefore when you sell for EUR 100,000 it is a good exit.
Sectors on the rise
Adriana Record – Executive Manager, CCIFER
In poor areas, it is not realistic to believe that the gap can be bridged. But the tools needed are education and innovation in education.
We want a digital Romania, but this label should not be one of marketing, but one of substance.
How do we create a bridge with the business environment? We are training young people who want to work in public administration. There is a gap between the public administration area and the real economy. Every school program should include a business dimension.
Oana Toiu – State Secretary, Government of Romania
Why social economy? The level of challenges exceeds the ability of both the public and the private sector to solve something via direct investments. There is a more systemic need to solve something. There is a need to provide instruments to move from a situation market by difficulty to one that generates value. People are not necessarily in a state of subsistence, but in a state of aspiration. We believe the public and private sectors should invest in the social economy sector, in businesses created by people who come from a disadvantaged background.
Romania is too expensive for a low cost destination. The economy wants the country to move, in IT from outsourcing to producing value, from producing components for the automotive industry, to making smart cars. Education is not a responsibility of all factors involved taken separately, namely the state, the schools, the parents and the students, but of everyone taken as a whole.
Varujan Pambuccian – Member of the Commission for Information Technology and Communications of the Chamber of Deputies
There are things that are produced by robots and we want those, because they are cheap and good. But we, humans, want to feel unique. And Romania has a potential here, otherwise we should have started 70 years ago.
He added said that kids nowdays should think of future jobs in areas related to IT – bioinformatics, classic IT, industrial robotics, AI.
Read also: Live text: Foreign Investors Summit 2016 – Day 1