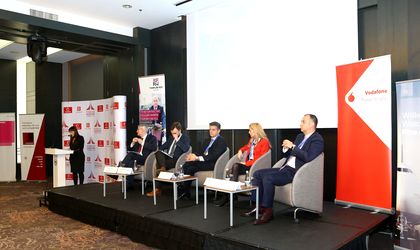 Leading officials, experts, investors and business leaders will share their expertise and explore the best solutions for increasing economic potential in the region – macro level perspectives, investment prospects, financial aid, global inspiration in this year's Foreign Investors Summit, organized by Business Review magazine. Here are the main statements from Day 1.
FDI Growth Panel Discussions
Daniela Serban – Investor Relations and Public Relations Director, Bucharest Stock Exchange
The fact that Romania was included on the Watch list for Emerging Markets as a sign of recognition of efforts started three years ago by the Bucharest Stock Exchange and other institutions as well as as a result of amendments to the tax code.
Foreign investors, coming from Poland, Greece, Turkey and more, are interested in Romania and are looking for large companies that require big investments. They are looking for public offers and are keeping their eyes on Hidroelectrica. Investors are looking for predictability and want things to happen faster.
Private companies are equally interesting, and investors are looking at companies that are contributing to the consumption, which is on the rise in Romania, to increase their exposure to the country's economic growth. IT companies are also of interest.
Ioana Gheorghiade – Executive Director, Public Sector and Infrastructure Financing, BCR
The lack of good infrastructure is one of the important obstacles to major investments. For instance, the Iasi area is not connected by highway to the rest of the country. That is why investments focus on the IT sector, and less in production/manufacturing. This public-private partnership is a viable alternative and includes the use of public money and European funds.
Manuela Furdui – Managing Partner, FiNEXPERT
In 2016, out of 36 investors that applied for state aid, 6 were chosen. Currently there are three state aid schemes. The first two are managed by the Ministry of Ministry of Public Finance (MFP), and a third one, to be implemented next year by the Ministry of Economy. The third scheme is designed for investors who are planning to make investments of less than EUR 10 million. The budget is not known, the draft was put up for debate.
The availability of state aid gives Romania competitive advantage and weighs a lot on an investor's decision to come and invest in Romania.
State aid schemes can provide up to 50 percent of the value of eligible costs.
In regards to the competitiveness of Romania among neighboring countries, Romania is among the winners. While it is not the only state to offer aid to investors, Romania's aid schemes offer cash, and not fiscal facilities. However, the offer lacks flexibility. Elsewhere in Europe, processes of approval and implementation are different, with red tape less burdensome.
Mitel Spataru – Tax Manager, Finexpert Consulting
In terms of direct taxation, Romania is competitive. However, when it comes to social contributions, Romania has among the biggest contribution shares. Steps are being made in the right direction, and of late, for instance, Romania becomes a destination for hubs that were attracted by Hungary. Those who are resetting their business in the region are considering fiscal policies. Relations with the public authorities are a factor, and here there is also a growing trend.
A strategy for Romania
Robert Miklo – associate director, Investment Services, Colliers International
He suggested that all Romanians should work together on increasing the overall integrity of the country.
Ionut Simion – country managing, Partner PwC Romania and President, AmCham Romania
"It is very important what our country will become. (…) Let's restore the pride in our country," said Simion.
Eric Stab – president, Foreign Investors Council
There is room for differentiation and improving the competitiveness of Romania, said the head of the Foreign Investors Council.
It's important for Romania to have an explicit ambition that is endorsed by all – politicians, civil society and companies, said Stab.
The FIC explained that it is possible for Romania to become one of the top 10 countries on economic size in the EU. That should be an aspiration.
"Romania has to create trust and remove the regional disparity. Unfortunately, not the whole country is growing at the same pace," said Stab.
"At the FIC we believe that there are 3 pillars important in the infrastructure – infrastructure of all kinds, human capital – the demography, the efficiency of the public and private sector," suggested Stab.
Carmen Marcus – economic counselor, European Semester, Representation of the European Commission in Romania:
"What we say in the EC in the last 2-3 years is that to get out of this type of paradox there is a need for sustainable growth," said Marcus. It requires macro-stability and structural reforms, she added.
"Competitive Romania is looking at the current competitive advantages," said Marcus.
Dragos Pislaru, minister of Labor
We are trying to provide better governance, to promote a more friendly public administration for instance, said the minister. He added that the government has a package right now that is incentivising people to go find jobs, which is also helping social and territorial mobility.
Three things have changed – the concept of good governance, transparency.
To go back to the people that have left – Diaspora. I see more people from Diaspora willing to help.
The third thing is inclusion – When going abroad, Dacian Ciolos is in the middle of attention. Right now, we are having people from Germany, France that want to have bilateral meetings with us.
I don't see Romania transformed into a Porsche or Mercedes now. Let's try to be a good Duster right now.
"Romania has just entered a new boom cycle," said Pislaru, adding that authorities should prevent fiscal slippages and the keep this momentum going.
Key note speaker – John Riker, managing director, Blue Ocean Strategy –Initiative Centre
High profit growth, high user growth is what we are looking for a strategy. 
There is a limitation to competition and competitive intelligence. Henry Ford was interested in everybod
y on a horse. In this thinking you should start to think how to create blue oceans. 
How can Romania create a blue ocean of market space for itself? What struck me during this morning's talks is a simple question. How can Romania attract the best money and best people because what I have heard is that the best people are leaving. The young and the talented are leaving. We must attract this group back and the question is how.
The three elements of the Blue Ocean Strategy: Value Innovation, Tipping Point Leadership, Fair Process.
A blue ocean strategy should help Romania reach the EU average GDP per capita in a few years, said Riker.
"You are a young modern country, without any constraint," commented Riker about Romania.
"5 percent of growth is your red ocean. Keep it going," said Riker on Romania, adding that it should be complemented with blue ocean elements such as the location of the country, health and education systems.
Macroeconomic Context
Daniel Daianu – member of the Administration Board, National Bank of Romania
Macroeconomically, the economy is looking more than better, even if we consider the economic growth that is surprising in the European Union. It has a reasonable public debt, below 40 percent of GDP.
It has imbalances that have been reduced significantly in the past few years. This year, the current account deficit will be double that of last year, but it can be financed.
"We have an exodus of human capital," said Daianu. "There is a lack of labor force," added the BNR official.
He added that Romania has to collect more taxes, which stands at around 27 percent of GDP.
RON-based lending has around 55 percent on lending flow, added Daianu, mentioning that the reliance on the euro lending has to further fall.
"I salute the investments made from Germany, Italy, Spain in the industrial field," said Daianu.
Claudiu Vrinceanu – Secretary of State, Ministry of Economy, Commerce and Relations with the Business Environment
We shouldn't make a distinction between local and foreign capital.
Each domains and priorities in Competitive Romania are based on a budget. "We have a domain exclusively focused on foreign investments," said Vrinceanu.
He said that the red tape regarding permitting procedures has been the main issue mentioned by investors in discussions with government officials.
The government official mentioned the Competitive Romania plan, the tax exemption for R&D workers, the promotion of vocational training and the Scale-up state aid scheme are some of the measures that will support the local business environment in the next period. He said that the Scale-up program will be rolled out next year.
The Scale-up state aid scheme has a RON 200 million budget that targets medium-sized investments and aims to promote investments made in poorer areas, said Vrinceanu.
Competitive Romania stimulates the 3 production factors – productivity, capital, labor force. He said these contribute to the growth of the potential GDP.
Codrut Pascu – senior partner & managing director, Roland Berger
In relative terms, Romania is in a positive perspective compared to other CEE countries. We have a positive differentiator. "The FDI flow is growing and will reach a post-2008 record," said Pascu.
In Romania, we can talk about an inflation of plans, and many of them can't be implemented, said the senior partner.
"It is not possible to have 17 strategic domains (as a country – e.n.)," said Pascu. He added that countries can have 4-5 strategic fields to focus on.
The industry and energy account for around 30 percent of Romania's GDP, said the Roland Berger official. He said that the development in the services sector could allow Romania to grow by 5 percent yearly, because the labor force in Romania is more flexible than those in the other countries in the CEE.
"We need to change the economic model," said Pascu, explaining that the current model of Romania's economy has reached its limits.
Romania ranks first in the CEE cluster at this moment, said Pascu, citing the good macroeconomic figures, the economic policy stability which supported the component of investments, the fact that the tax payment procedure was simplified alongside the insolvency legislation.
He said that there are still gaps, for instance on the time it takes to connect to the electricity grid or get a construction permit.
If the performance of the public sector would average that of the private sector, Romania would secure 2.5 percent of growth of GDP each year.
Alexandra Predeanu – country manager, ICAP Romania
The production and distribution of energy is one of the most profitable industries in Romania, according to analysis of ICAP Romania, regarding the top 100 most profitable companies in Romania in 2015, said Alexandra Predeanu.
OMV Petrom, Hidroelectrica and Orange Romania are three most profitable companies in Romania, according to the latest financial data.
Read also: Live text: Foreign Investors Summit 2016 – Day 2