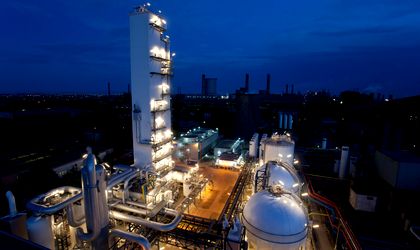 Industrial gas producer Linde Gaz Romania inaugurated last week a new separation unit at ArcelorMittal Galati steel company, following an investment of over EUR 100 million that was started in 2008.
The unit has a capacity of over 2,000 tons of oxygen per day and also supplies large amounts of nitrogen and argon for steel production. Linde signed a long-term on-site supply agreement for industrial gases with ArcelorMittal Galati in 2008 that runs for 18 years.
Last year, the contract between the two companies was worth EUR 20 million, as ArcelorMittal produced 2 million tons of steel. The Linde unit can accommodate a 6 million ton steel production, but the current situation in Galati is not looking too bright.
"Before 2008 Turkey was a net importer of flat steel products. Since 2011 it has become a net exporter. So, we are now in a much more unreliable world, with a lot more competition. This is why  we are now fighting every day to sell around 2 million tons per year," said Bruno Ribo, CEO of ArcelorMittal Galati.
The investment in Galati included, beside the construction of the air separation unit, the refurbishment of the existing gas facilities, as well as the demolition of the equipment and facilities of ArcelorMittal.
"The operation of the existing installations was promptly taken over by Linde in June 2008, just two months after the contract signing. Since this date, Linde has provided an uninterrupted gas supply to the steel mill, while conducting modernization works at the same time," said Oliver Pfann, general manager of Linde Gaz Romania.
The firm, part of the German Linde Group, reported a turnover of around EUR 100 million in 2011. This year, the company expects an increase of 3 to 4 percent.
It holds a 60 percent share of the Romanian industrial gas market, which stands at EUR 160 million, according to Pfann. Linde has invested EUR 260 million in Romania since 1996.
Linde operates three air separation units (ASU) in Ramnicu Valcea, Otelu Rosu and Galati, on the premises of ArcelorMittal, where there the biggest ASU in Romania is hosted.
Ovidiu Posirca