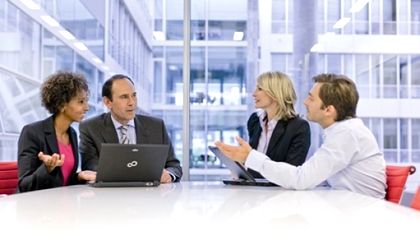 Knowing the preferences and habits of their customers from the liberal professions may give a boost to lenders, who can adapt their ranges of operational, financing and saving products to the real needs of such customers. The potential is high as sole traders play a significant role in the development of the local economy.
Anda Sebesi
Like many other economic sectors in Romania, the local banking system has undergone major segmentation in the last few years. In a mature market like the local one, lenders have needed to differentiate from one another and try to offer a wide range of banking products and services in order to keep their customers and gain new ones.
One interesting segment is products for members of the liberal professions, such as small medical clinics and offices, associations, larger clinics, architects, financial auditors, lawyers, tax consultants, accountants, officers of the court, pharmacists, doctors, dentists, veterinarians, public notaries, psychologists, foundations and tenant associations.
It seems that lenders have spotted the potential of such customers as many of them – BCR, BRD-Groupe Societe Generale, Raiffeisen, Bank, UniCredit Tiriac Bank, Libra Bank and Banca Transilvania (BT) among others – have in their portfolio products and services created especially for them. There are also lenders on the local market, like ING Bank Romania for example, that, as a universal bank, address all categories of customers, including SMEs, which also means the liberal professions.
"ING Bank entered on the SME market back in 2008, with its products and services serving as an alternative to the traditional bank. Our products offer customers both the freedom to decide and transparency," say the bank's representatives. "In order to support the development of all the market segments, including niches like the segment of authorized individuals (PFA), ING has greatly adapted and customized its range.
It is about a special form of ING Professional – ING Professional for PFAs – which includes conditions intended to help these customers," say bank representatives.
BCR also addresses the PFA segment with financial products and services that meet such customers' needs for both financing and saving. "In addition, through the current account package PFA BCR, we offer our customers more tools to facilitate their interaction with the bank," say representatives of BCR. The current account package PFA BCR was launched last year as a combination of products and services that allows customers to manage their financial resources easily and efficiently at a reasonable price. "We also developed exclusively for our customers from the liberal professions the concept of Personal Banking, through which we offer them a dedicated adviser to provide them with customized and specialized consultancy on all of our banking products and services. They also can benefit from customized solutions, including complete financial planning adjusted to their needs," they add.
Elsewhere, BRD was one of the first lenders in Romania to have focused on this market niche. It launched and developed its range of loans from "Gama Expert" back in 2006. This includes solutions for financing adapted to suit the activity of a clinic or bureau, both to meet current needs and investment in equipment, modernization and the acquisition or building of a professional office. In 2008 the bank launched BRD Profit, packages that enable customers to bundle their banking expenses into a single monthly subscription fee. Later the lender also came up with Atucont PRO, a savings account that combines the advantages of a current account and a bank deposit. "Our customers have been interested in our range since the beginning and they have also helped us to continuously develop and improve it so that it could meet all their needs," say BRD-Groupe Societe Generale representatives.
Meanwhile, Raiffeisen Bank started to offer products for liberal professionals in 2008, with the lender aiming to have a customized and dedicated offer for this type of customer. "Individuals that practice the liberal professions can earn high incomes. Because of their earnings and social status, liberal professions form the middle class which is essential for economic development," says Dragos Calin, director of the microenterprise segment at Raiffeisen Bank. According to him, the lender's portfolio of customers from the liberal professions numbers about 7,000 clients, of whom more than 12 percent have accessed financing from Raiffeisen. The lender has both an dedicated operational offer and three categories of loans for liberal professions: Start-up, Flexi and Term Loan Invest. It also has the Cont product for officers of the court.
Last but not least, BT launched its medical division back in 2007, as one of its business wings alongside corporate, SMEs and retail. "We launched it in order to mark the beginning of a financial partnership between BT and the Romanian medical community," says Andrei Baican, director of the medical division at BT. The lender's portfolio includes more than 30 products and services for doctors, which have been launched over the last four years. According to Baican, over 20,000 customers from the medical community work with BT's medical division at present.
"We know very well the specifics of the local medical environment. Our process of developing products is ongoing and we are always able to offer solutions adapted to changes in the healthcare business environment and meant to replenish the benefits that doctors appreciate," says Baican. The bank has in its portfolio loans, saving products, customized savings and credit cards, solutions for managing a current account, internet banking and e-commerce, all of them adapted to the features of the medical business.
But why did the lenders target such customers? First because of their high potential, and second, because of the need to adapt to the new economic and social conditions on the local market. "We believe that products for the liberal professions in general and for doctors in particular need to adapt to the changes in the economic environment. Whatever the macroeconomic conditions of a specific field are, banks need to respond quickly, through those products and services that help representatives of the liberal professions to solve their immediate problems and to successfully tackle the new opportunities that may come up," says Baican. "The medical field is one that requires massive investments and that's why we have created some non-credit products aimed at minimizing the costs of a relationship with the bank."
Asked about the perspectives, representatives of BRD-Groupe Societe Generale say that products and services for liberal professions is a sector with significant growth potential in the future and so they predict the number of products sold will rise. "BRD will continue to support the liberal professions by constantly improving its offer with innovative products and services," they say.
Meanwhile, Calin of Raiffeisen Bank believes that as a result of the changes set to take place in the local health system, doctors will make investments in their surgeries.
"They will need the latest apparatus and equipment in order to keep their clients and provide quality services. So, at least some of them will buy them through medium and long-term loans," adds Calin.